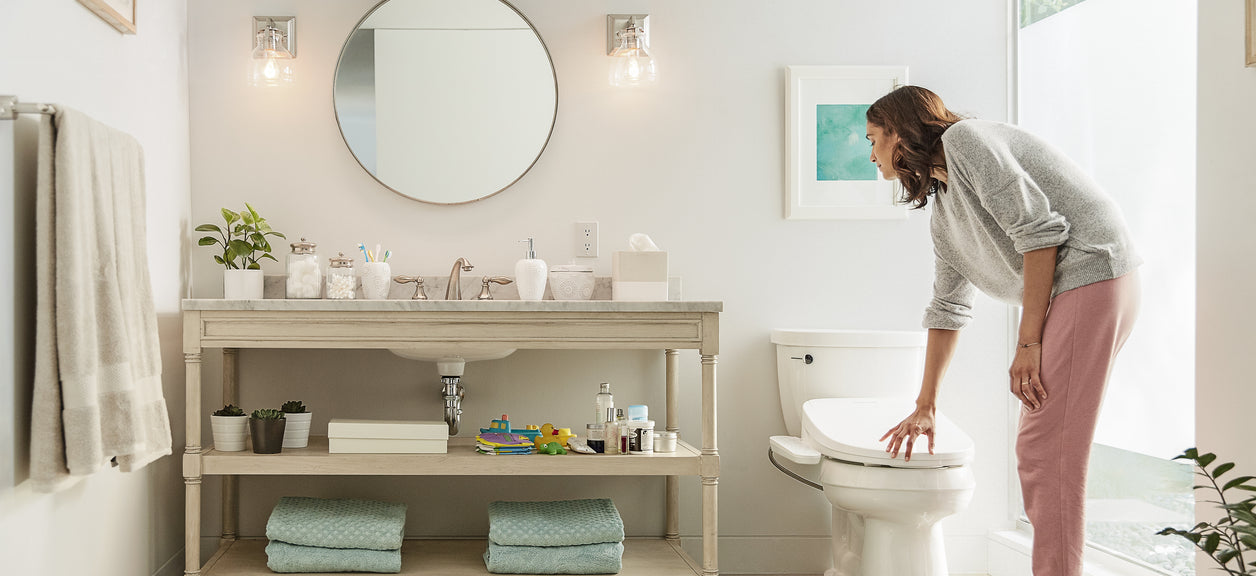 BLOG ARTICLES
Published: Jan 25, 2023
Why Use a Bidet
Grace Olivia Parry
It's not a musical note or a new fashion designer, but the bidet (pronounced be-day) should really be on your radar for all the right reasons. Those well-traveled may have seen one across Europe, Asia, and South America, but they're still yet to take off here in the US.
We may be used to toilet paper, but this French-originated bathroom product has a lot to write home about in terms of cleanliness, environmental factors, and experience (yes, we went there). 
So, if you've ever pulled a face at the thought of using one, we're going to run you through the reasons why you should use a bidet—and can quite confidently say you'll be a convert by the end of it.
The Benefit of a Bidet
First of all, let's drop the stigma of what a bidet is used for or who by. Because bidets really are for everyone. Everyone can (and should) use a bidet after going to the bathroom. If you want to ensure a better clean, using a bidet is the answer, and here's why.
For starters, it really is gentler and more hygienic. A water clean applies less pressure than paper, which can reduce your risk of hemorrhoids and provide a more comfortable experience. Hygiene-wise, you may find that there's a reduction in urine bacteria and a much lower chance of spreading germs by keeping your hands out of the cleaning process.
But it goes beyond that. Bidets are better for the environment–and don't just take our word for it. A bidet uses one-eighth of a gallon of water, whereas it takes almost 300 times that to make a roll of toilet paper. Not to mention the 384 trees it takes to make a full lifetime supply for the average person.
How to Use One
So, you're curious (we knew you would be)—but how do you actually use a bidet? Whether you opt for a smart toilet like the Bidetmega 200 or something freestanding, you want to approach your cleaning process in the right way.
While you're most likely to figure out a routine that feels best for you, it's good to start with a few simple rules. 
Test it out before you begin–a trial run can avoid any surprises during your very first clean. 

Soap is optional–you don't need it, but some like the add-on.

Stay clothes-free on the bottom half, just like sitting on the toilet, to avoid any accidents.

And finally, those using it after urinating will find that the front-to-back approach is the most hygienic and will avoid any irritations.
The Sophistication of a Smart Bidet
As you can see, a bidet is an absolute must when it comes to essential hygiene products that you need in your life. We've covered why you need to use a bidet, but how do you go about getting one?
It's not always that easy to reconfigure your bathroom to install the traditional French kind you may spot overseas, that's why we've created our line of smart bidets. You get the experience, cleanliness, and environmental benefits of using a bidet without having to renovate your bathroom.
In both elongated and round styles, with the option to go wireless, heat your seat, and a full cleaning program that's completely customizable, the Bidetmega line is top where your bottom is concerned!
Why Use A Bidet
And when we say bidets truly are for everyone, we mean it. Find braille, a nightlight, and child mode included in all of our models—not to mention they are easy to install. Just remember to measure up before you order, and your bidet experience is just an easy installation away. The best part: Coway provides a 90-day trial with a money-back guarantee. So, what are you waiting for? Check out Coway bidets today!
Grace Olivia Parry is a London-based writer with a penchant for Paris, good food, and fitness. When she's not writing about the finer things in life, she's cooking, practicing pilates, or planning her next trip.