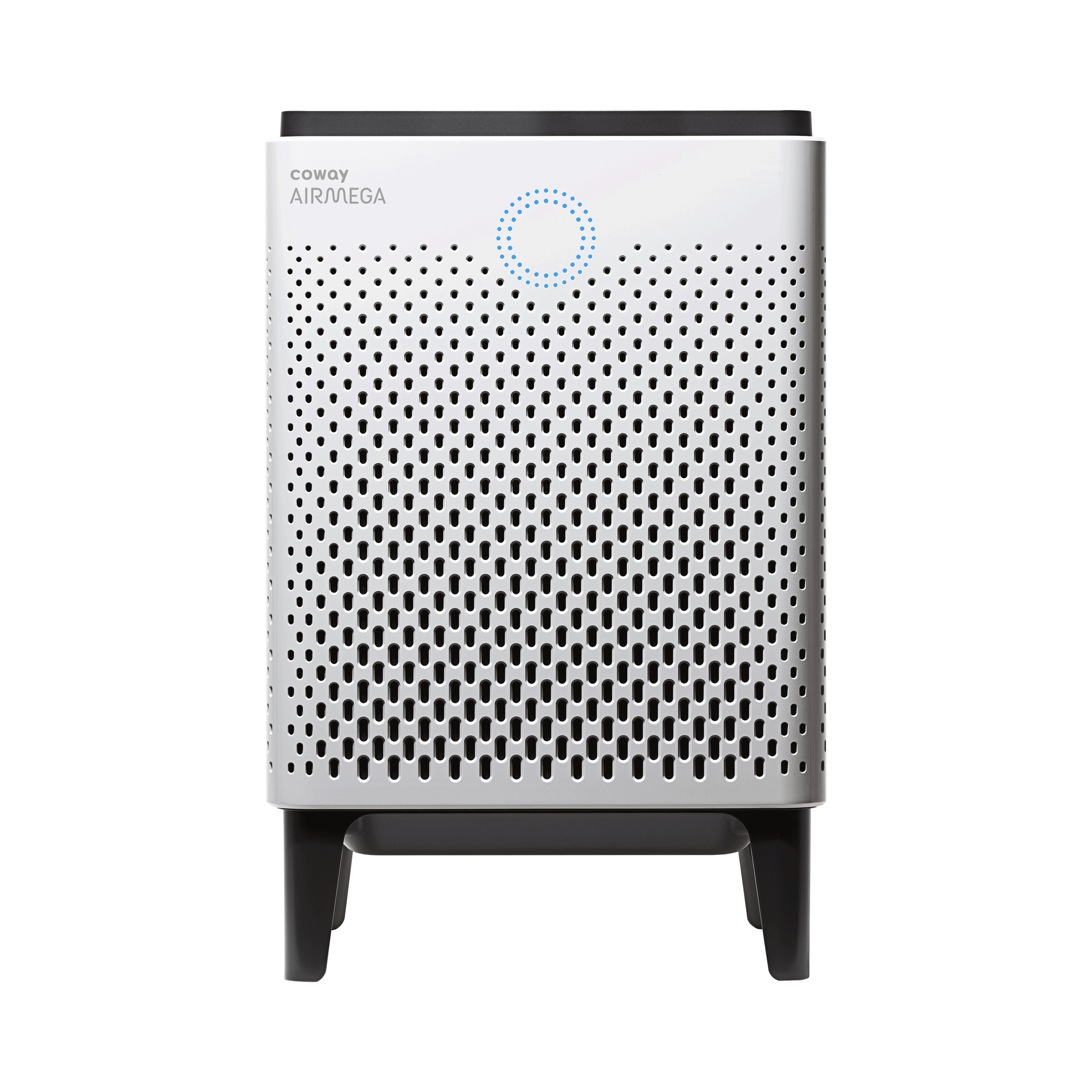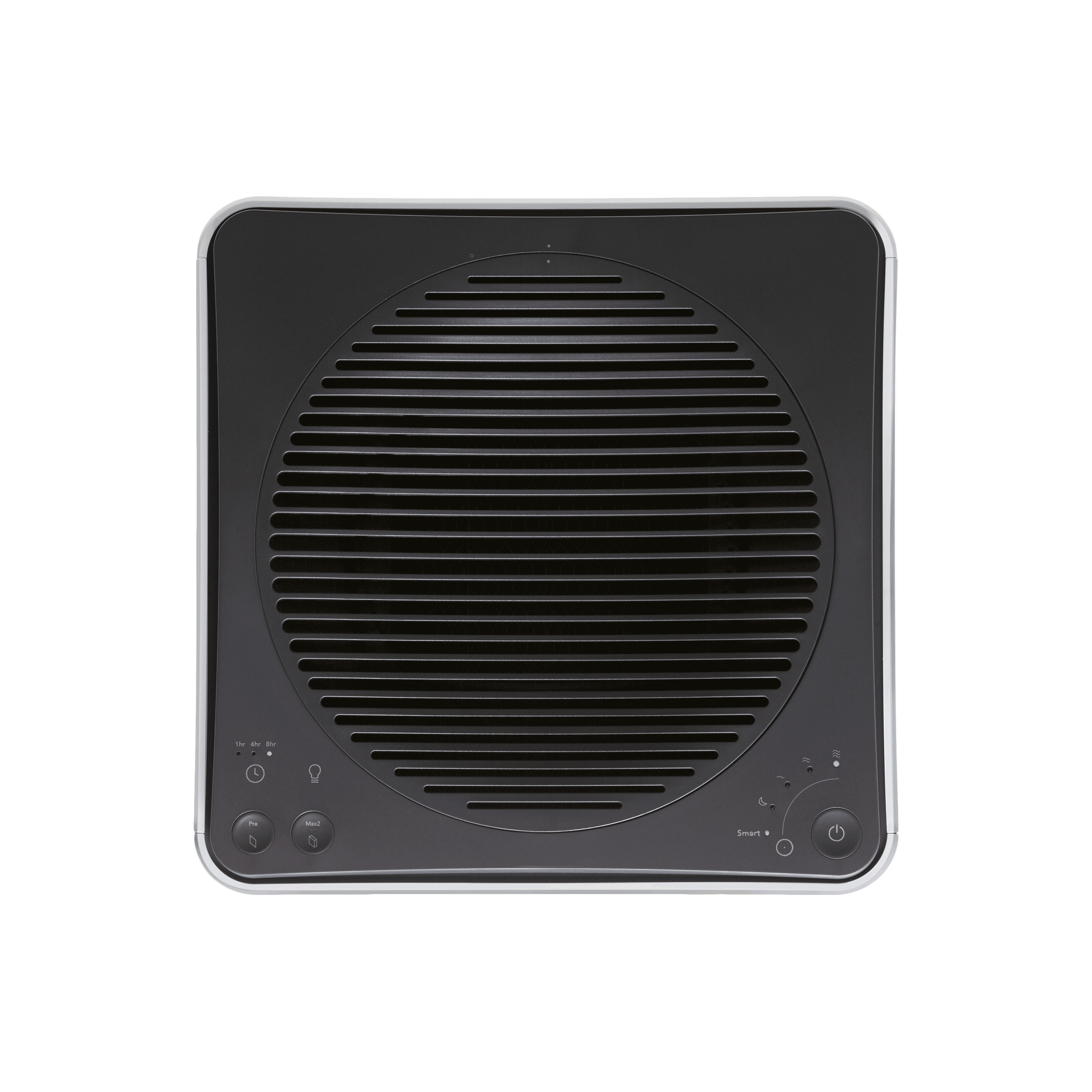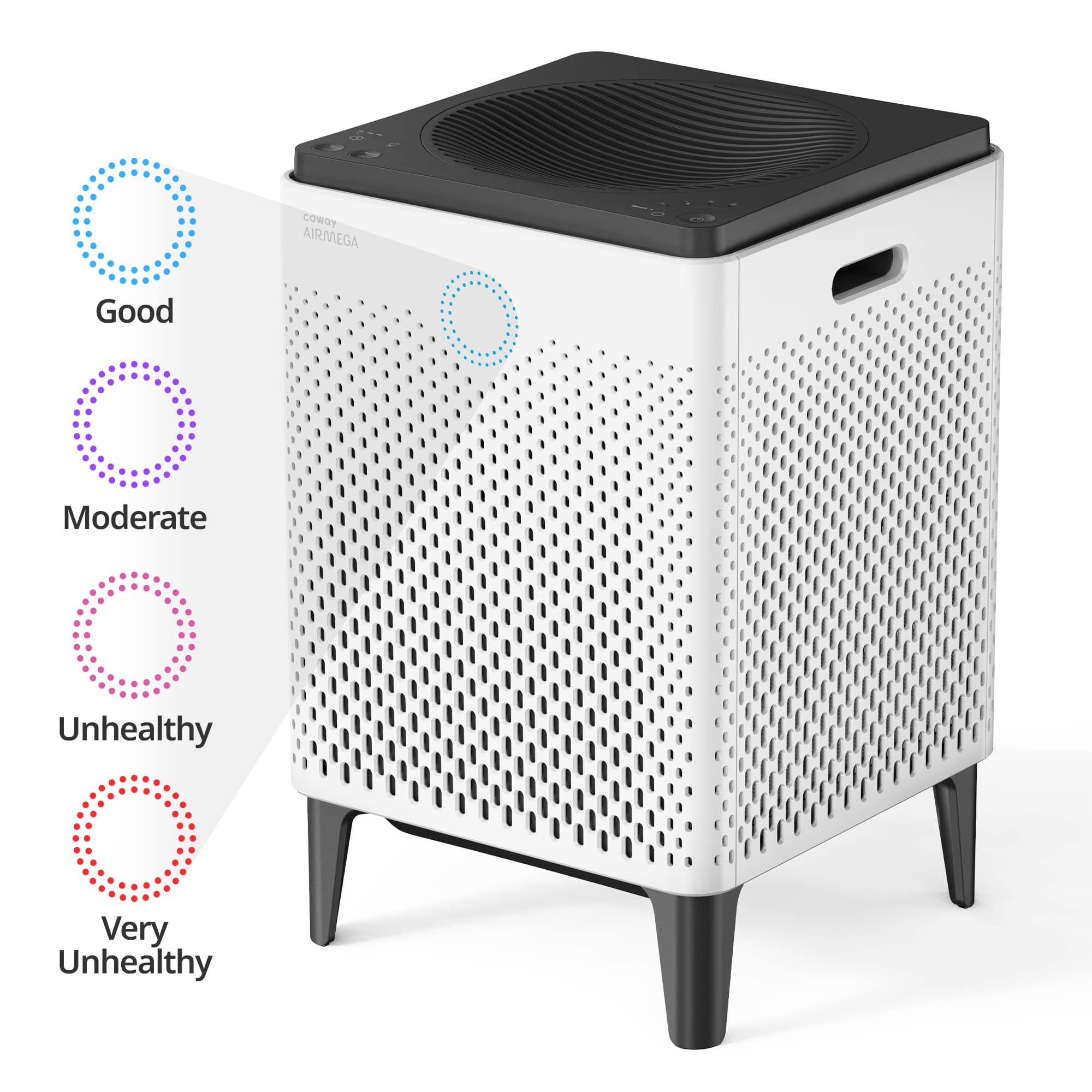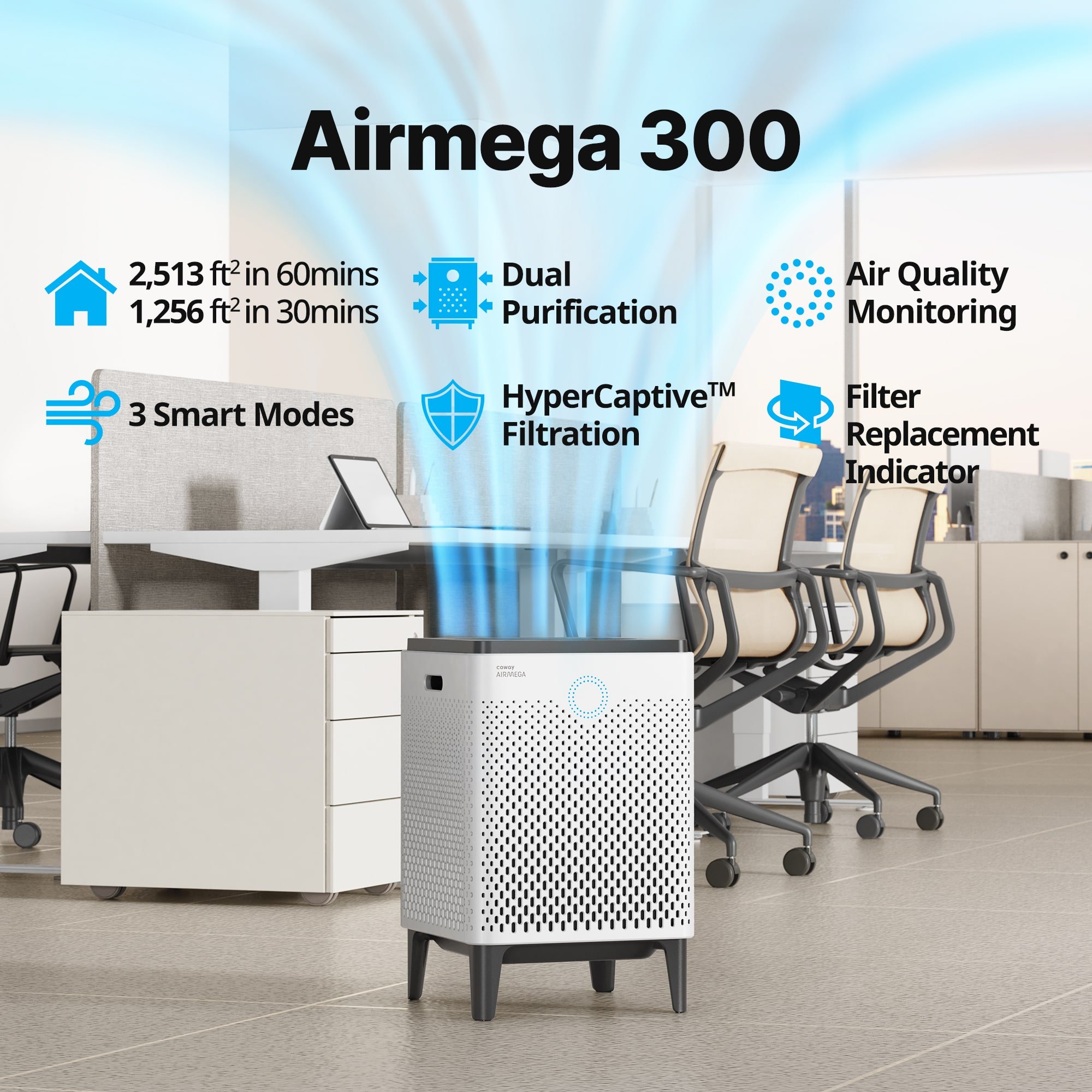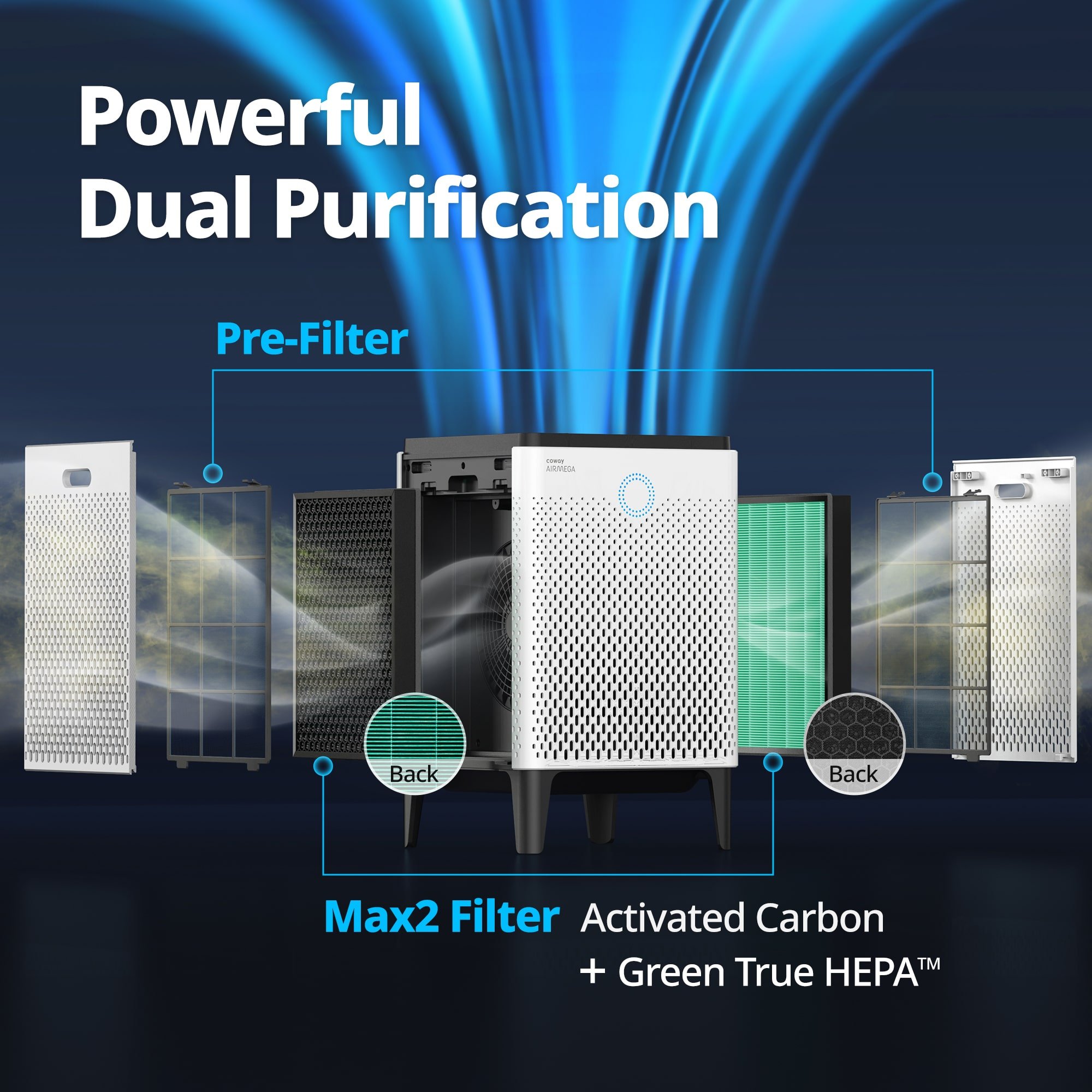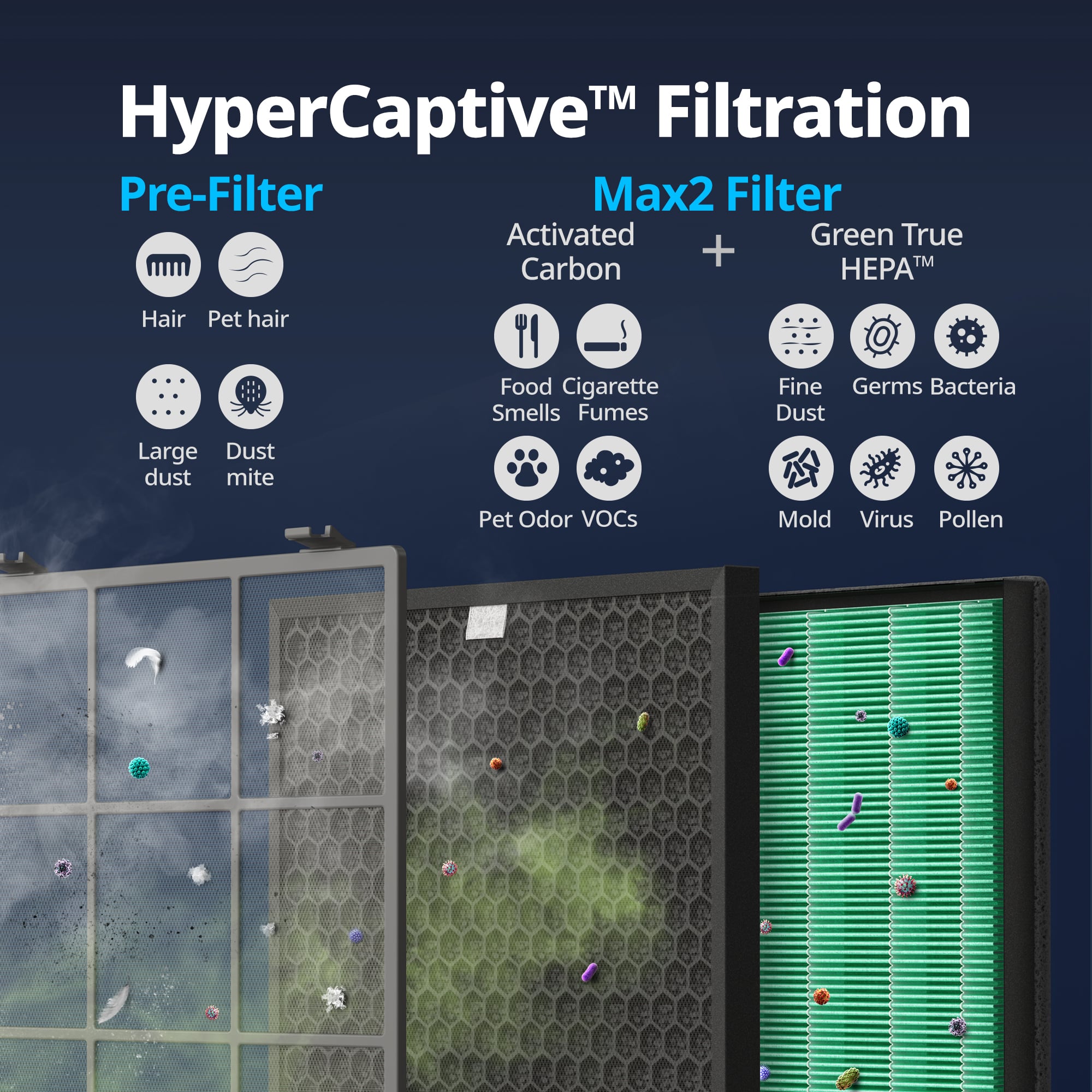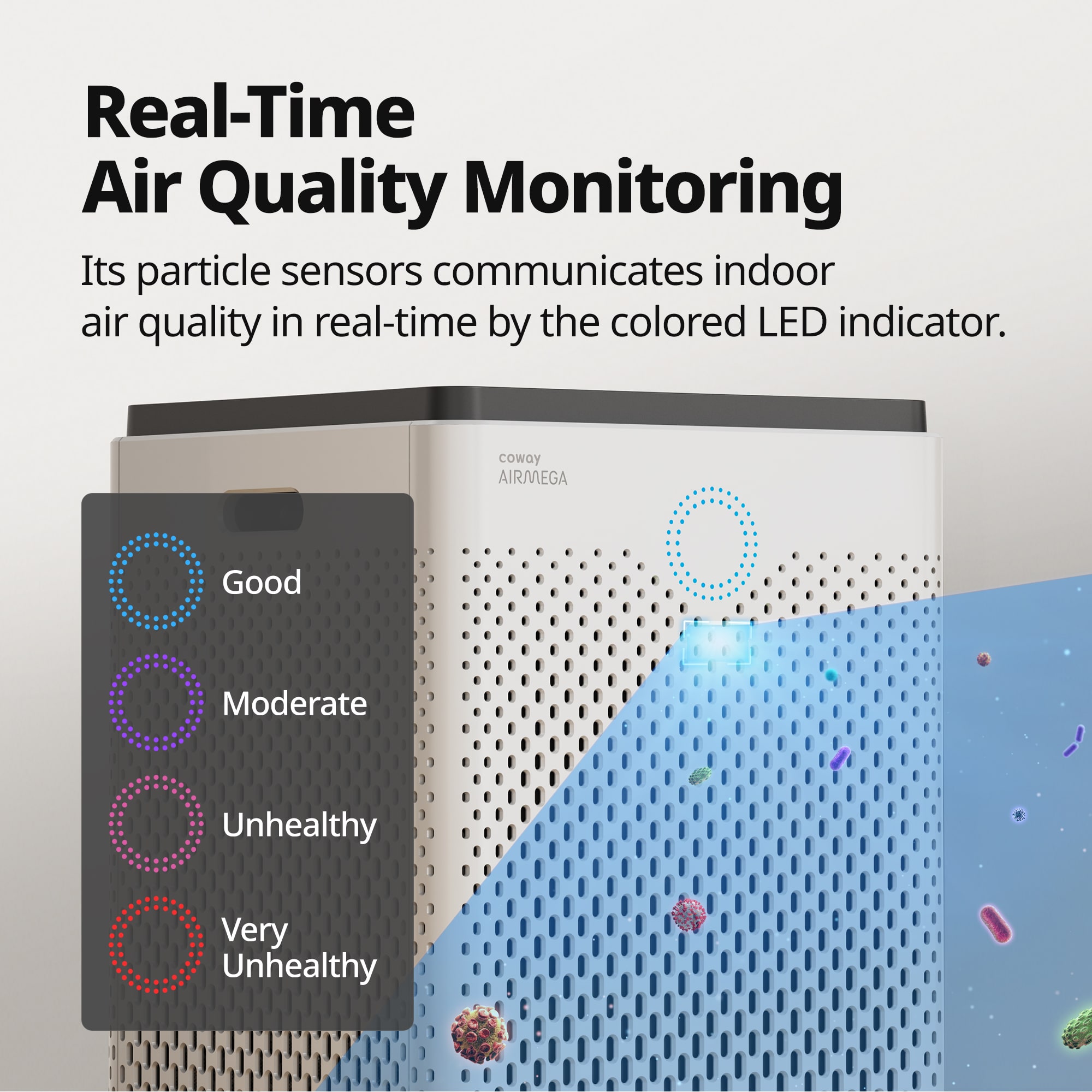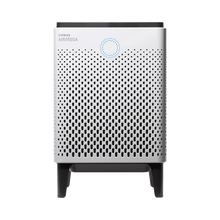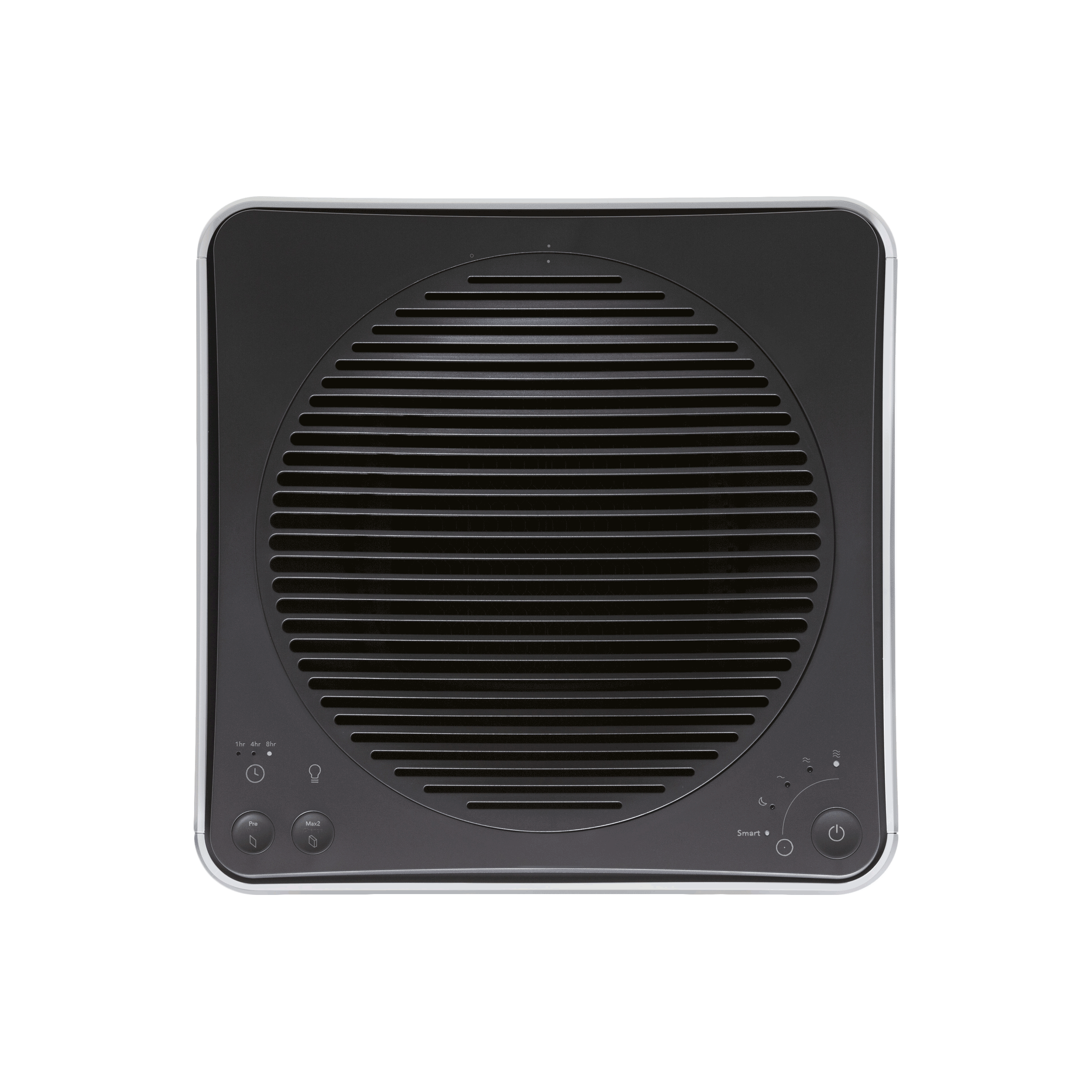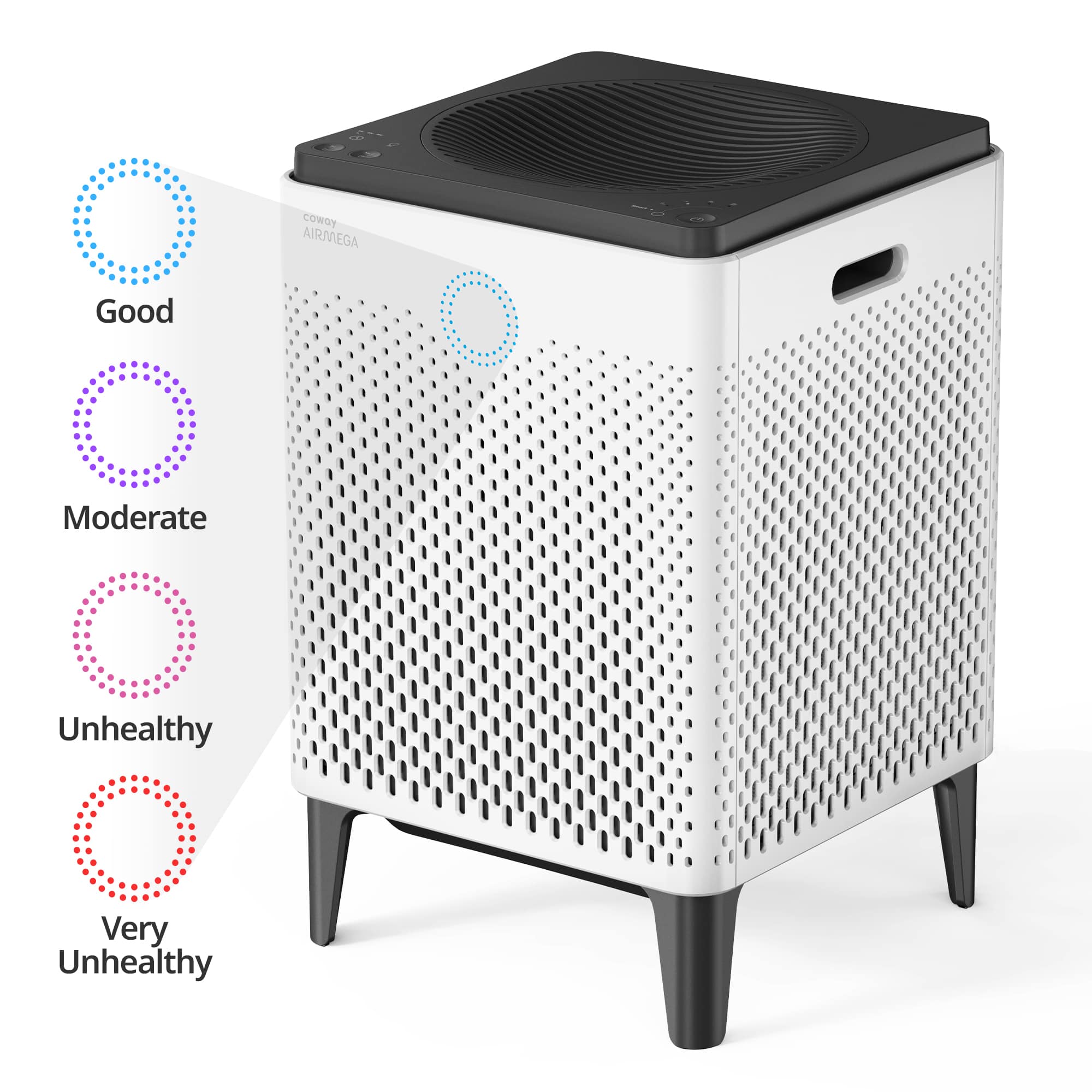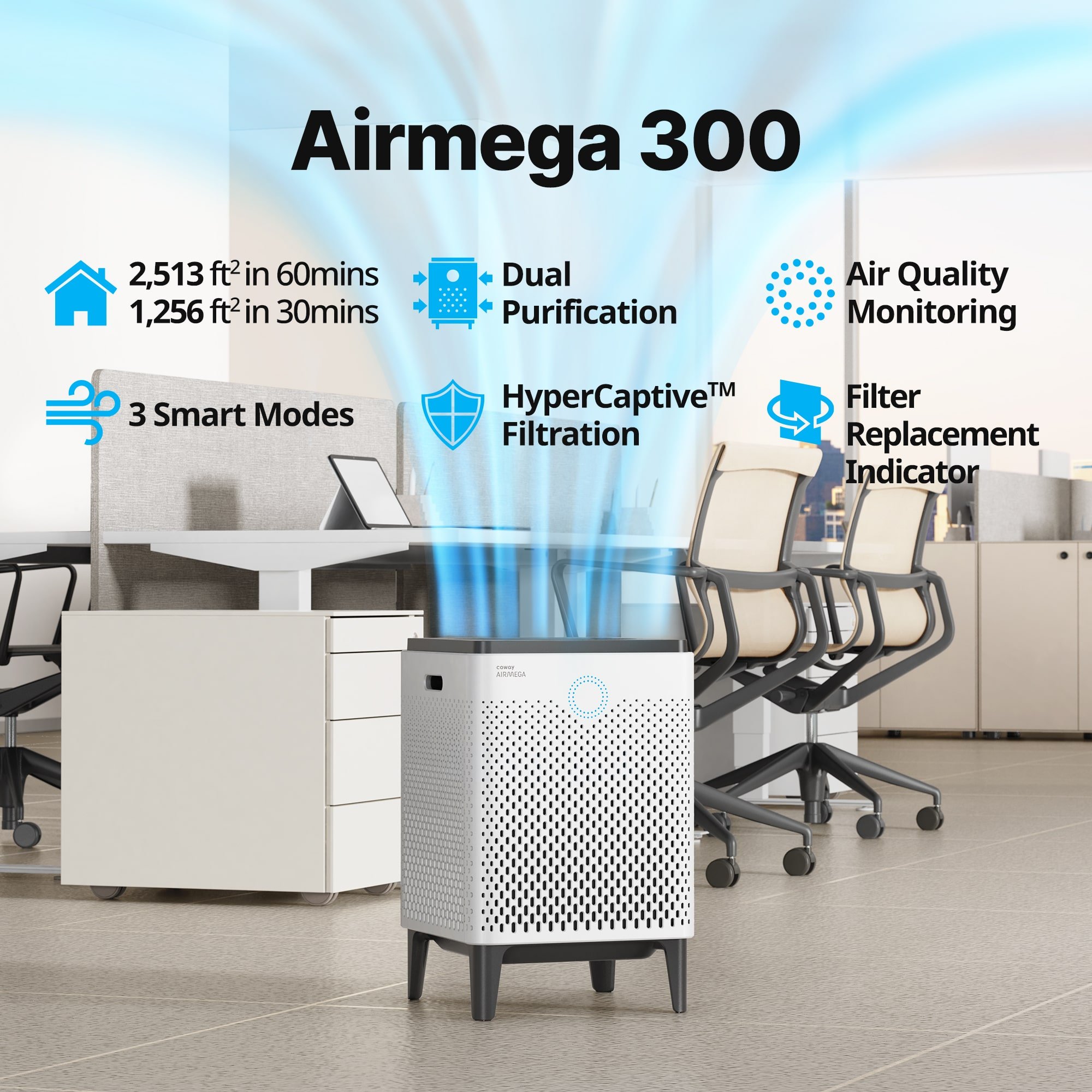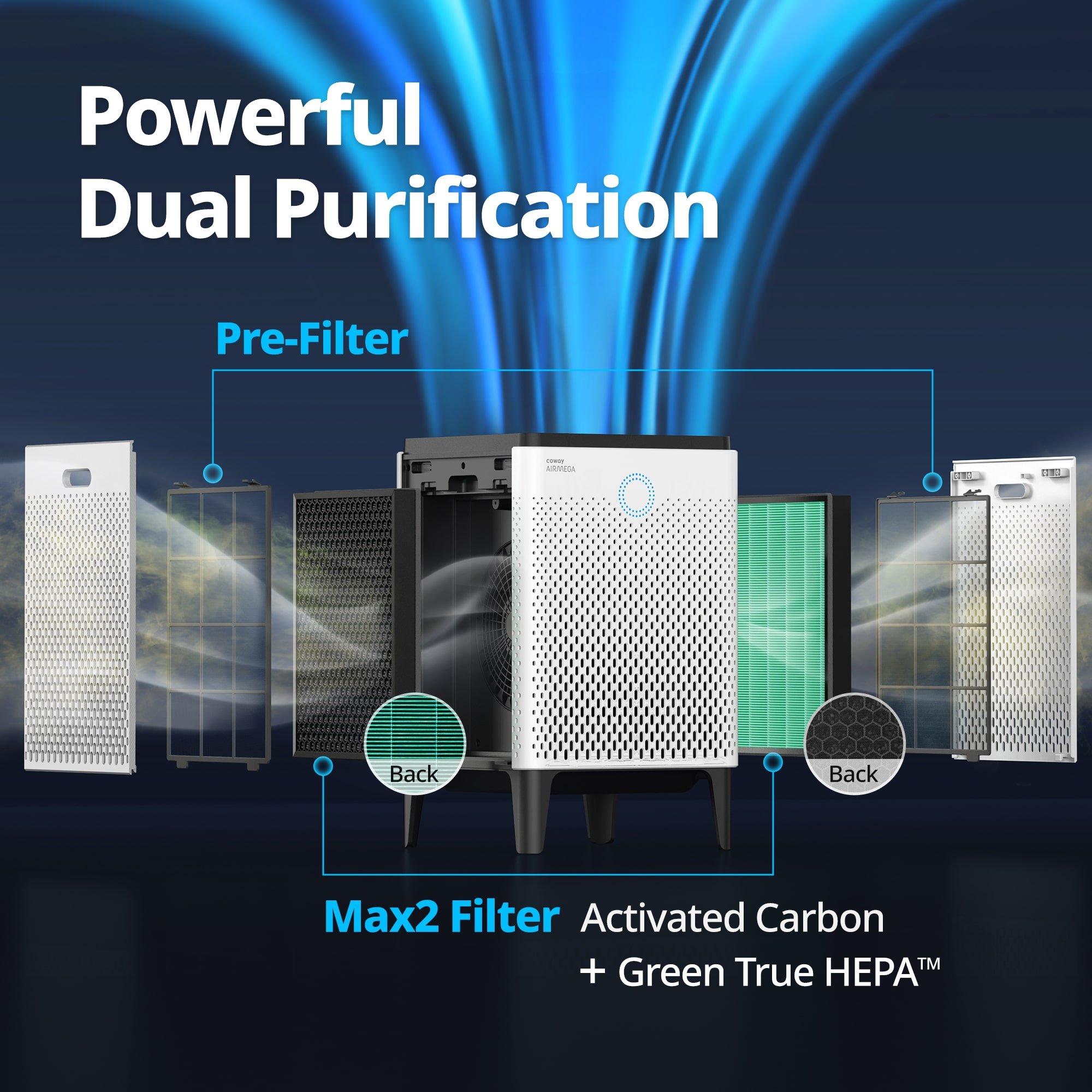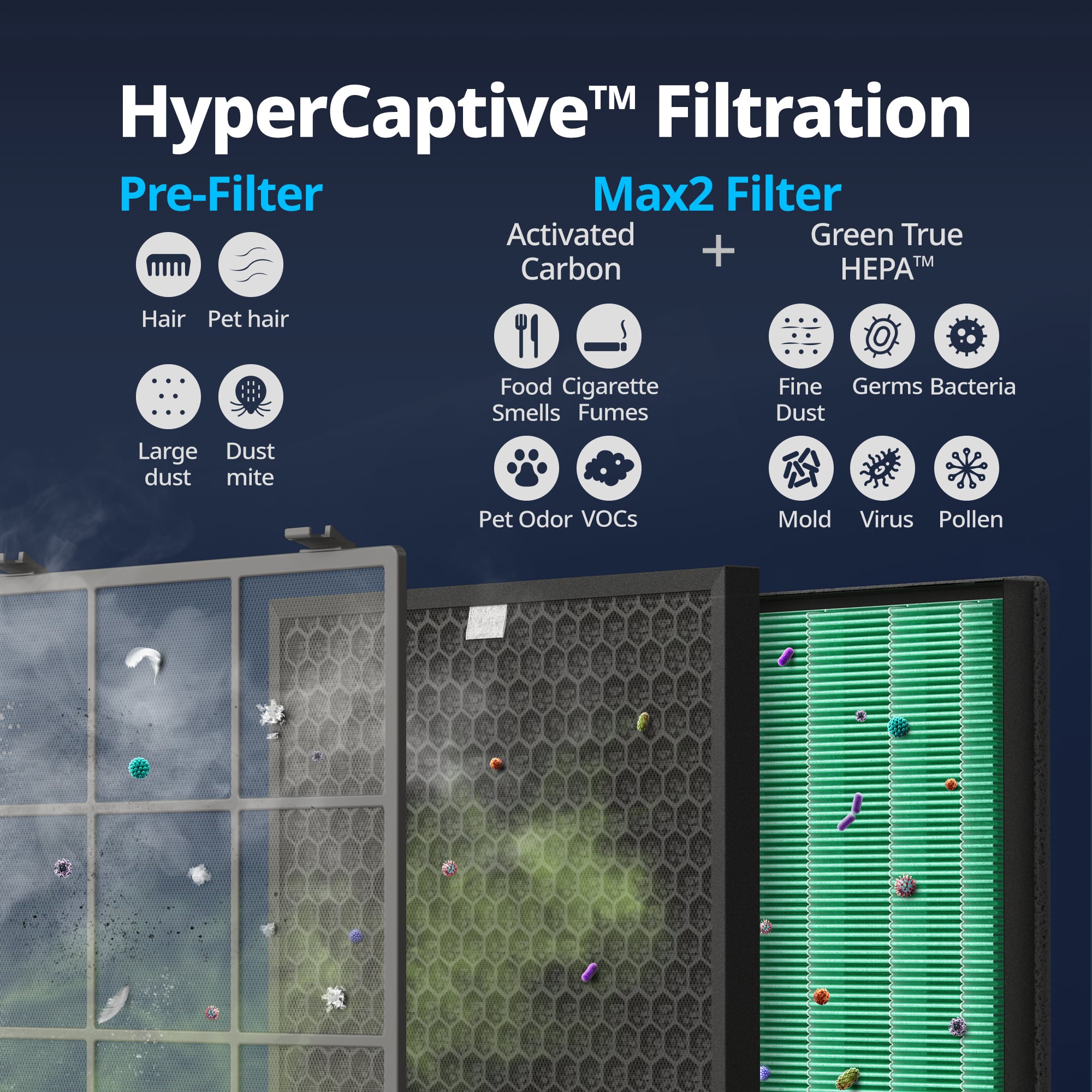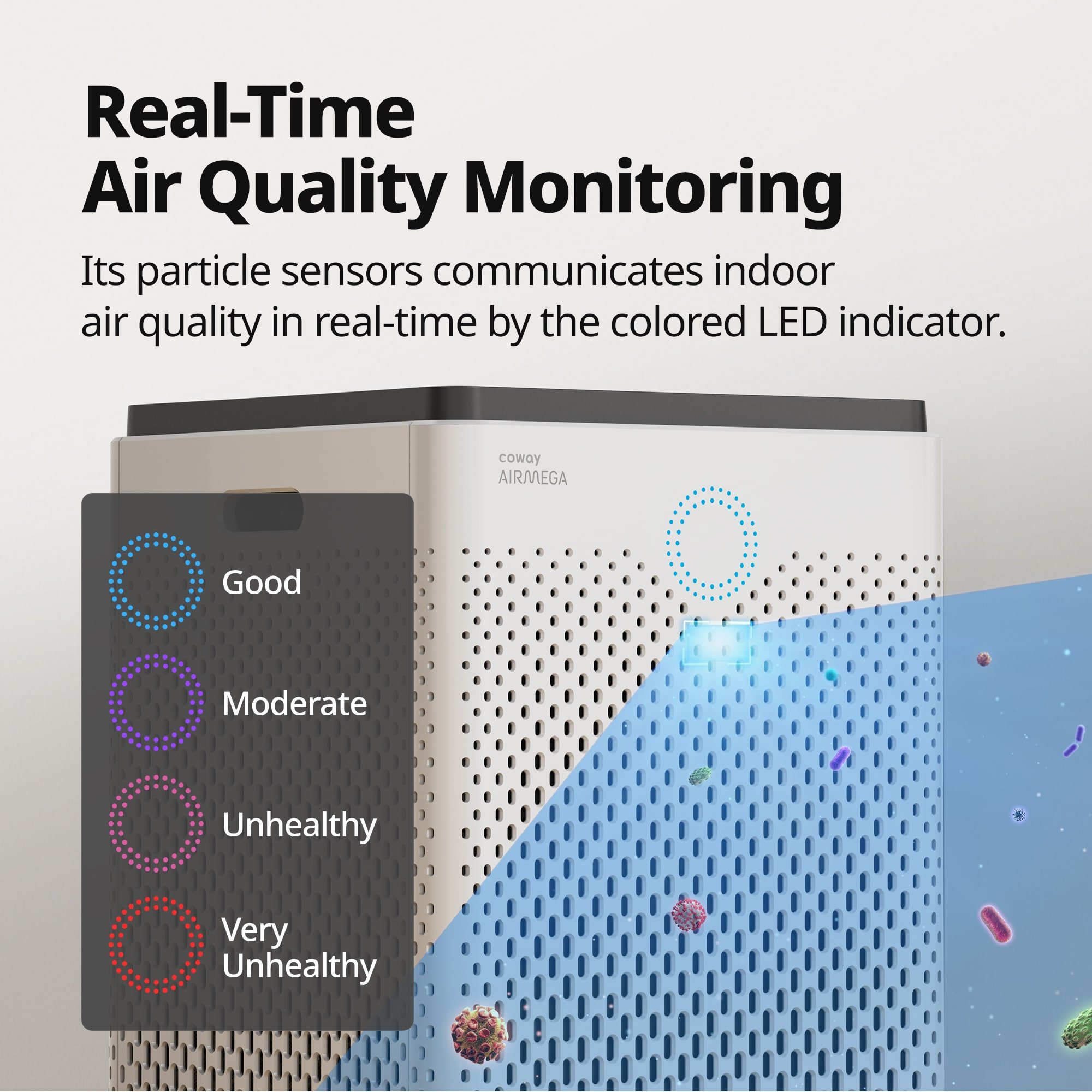 30-day money back guarantee

Free shipping

20% off filters coupon with registration
HyperCaptive™ Air Filtration
Powered by Coway Green True HEPA™ technology
Coway's network of diverse capture technologies takes purification to the next level, trapping and deactivating an unprecedented 99.999%¹ of particles down to 0.01 ㎛—smaller than most bacteria and viruses.
Pre-Filter
Captures dust, pet hair, and other large particles
To prolong the lifetime of every filter, the Coway-engineered Pre-Filter captures all larger contaminants first. It's also washable and easy to dry.

Green True HEPA™
True HEPA H13 Filter traps 99.97%² of various airborne particles.
Captures
Bacteria
Mold
Viruses
Pollen

Activated Carbon
Traps harmful gases, volatile organic compounds (VOCs) and odors.
Captures
Food smells
Cigarette odors
VOCs
Pet odors and dander
Dual Suction Purification
Powerful Purification
The Airmega 300 air purifier effectively filters the air in rooms up to 1,256 square feet.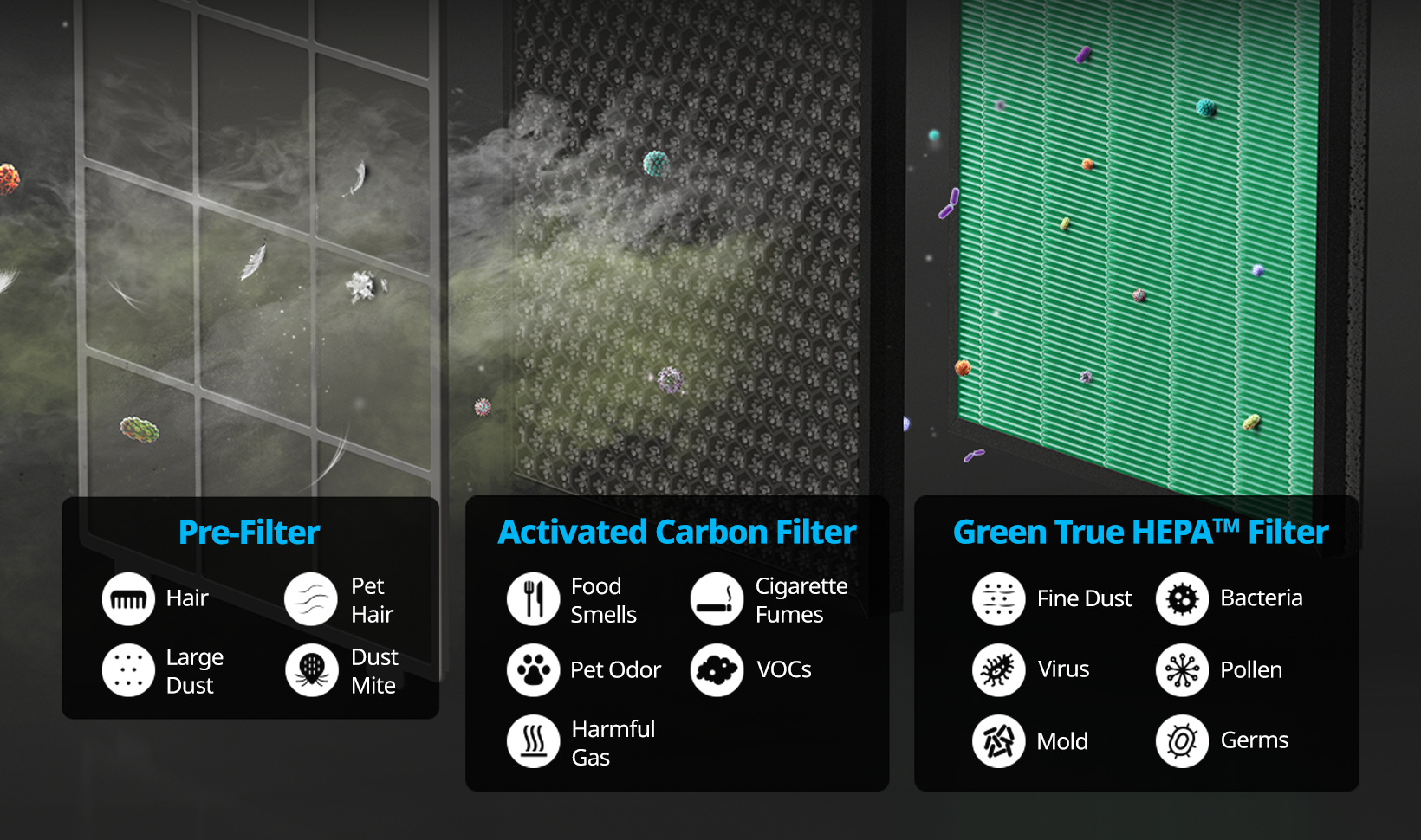 HyperCaptive™ Filtration System
Traps and captures 99.999%¹ of nano-sized particles in the air down to 0.01 microns.
Real-Time Air Quality Monitoring
Its particle sensors communicates indoor air quality in real-time by the colored LED indicator.
Smart Modes
Let Airmega 300 do it all with 3 smart settings, Airmega adapts to every space.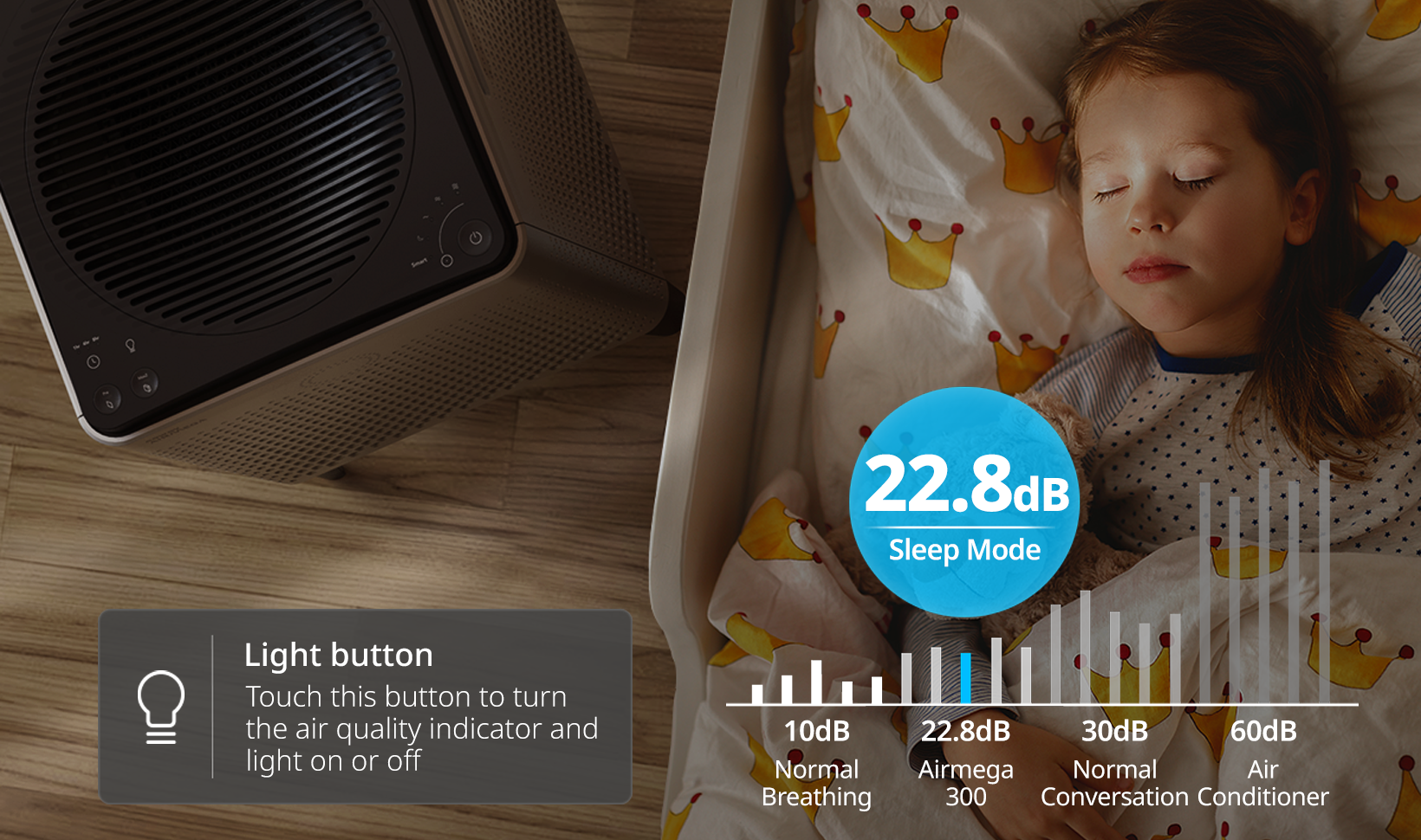 Quiet Operation
Less noise and light button keeps your space comfortable whilst you sleep.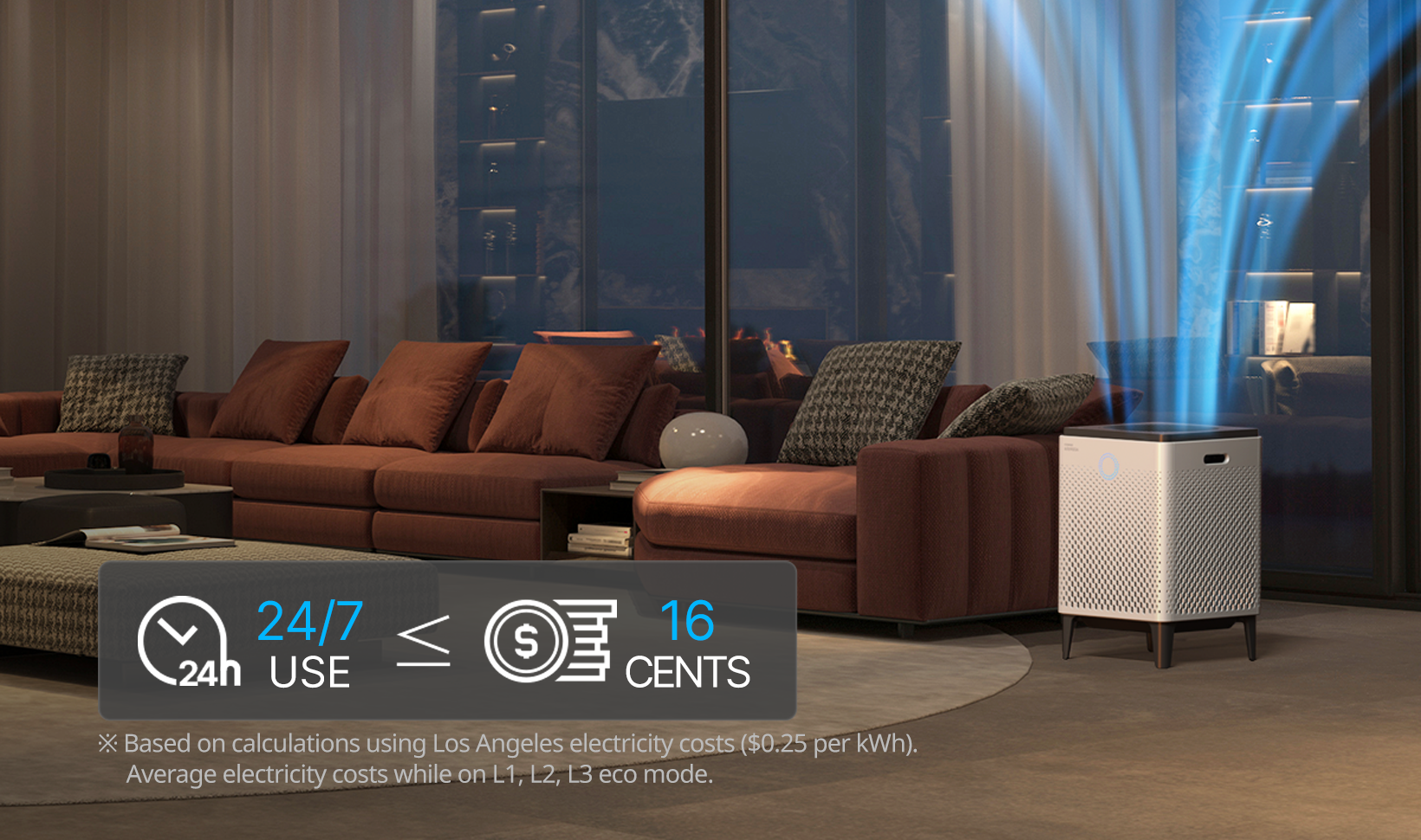 Energy-Efficient Focus
Minimalize overhead costs with our light sensor that measures brightness.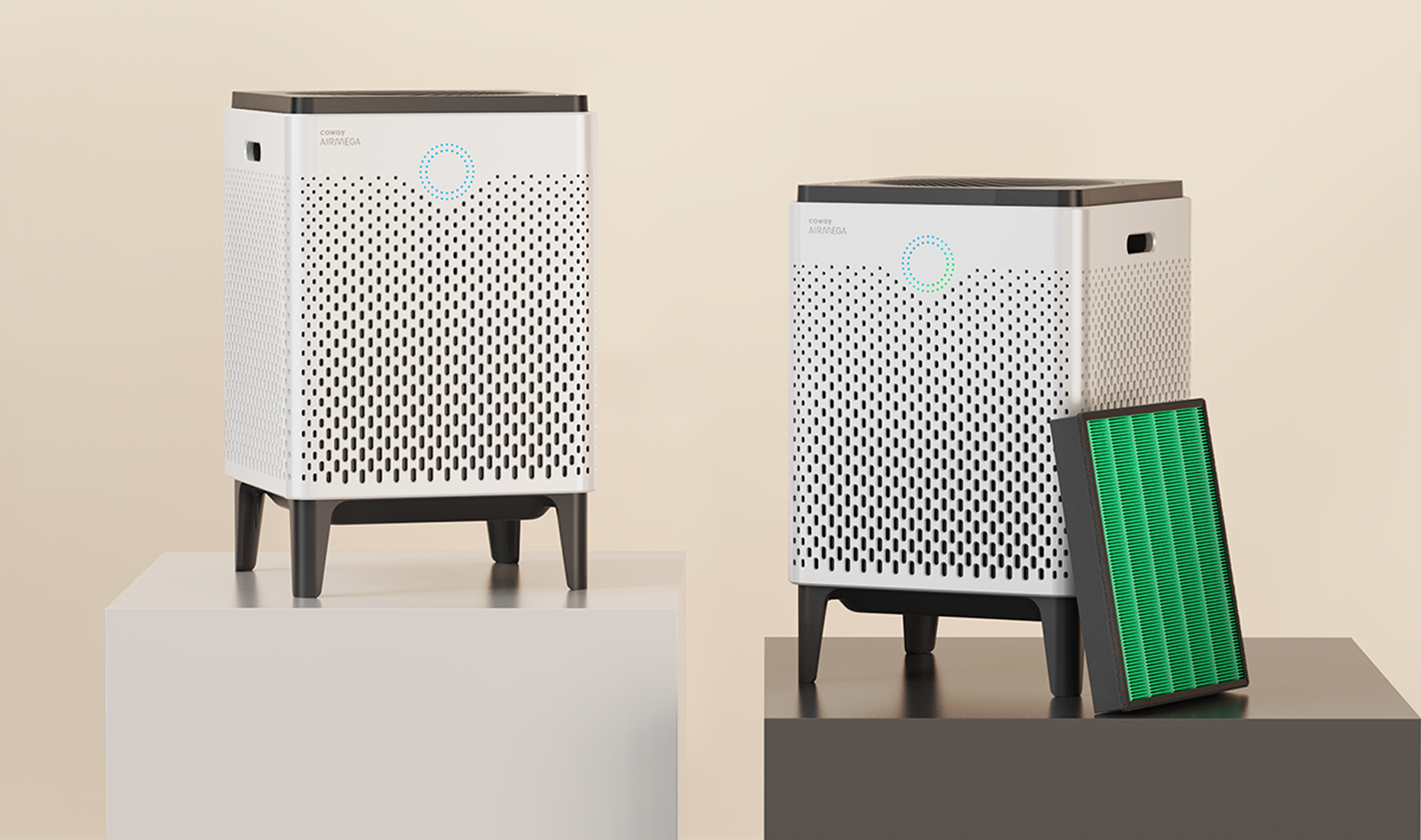 Max2 Filter Compatible with Airmega 300 & 300S
Coway Airmega Max2 filter standard lifespan is approximately 12 months. Airmega gauges the filter lifespan based on usage rather than time.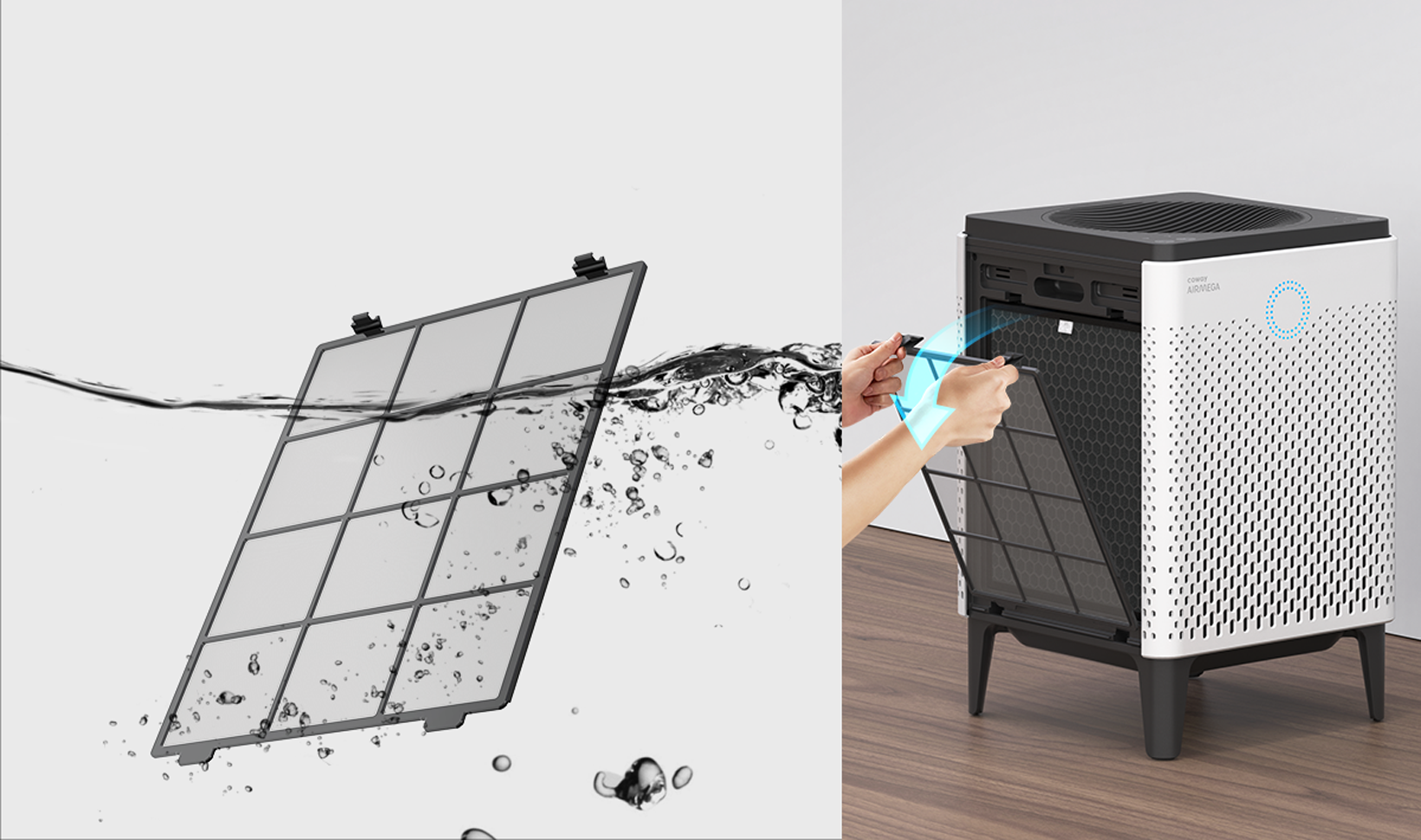 Convenient, Washable Pre-Filter
Easy-to-clean pre-filter captures large particles like hair, fur and dust in its micromesh, so Max2 filter can work more effectively.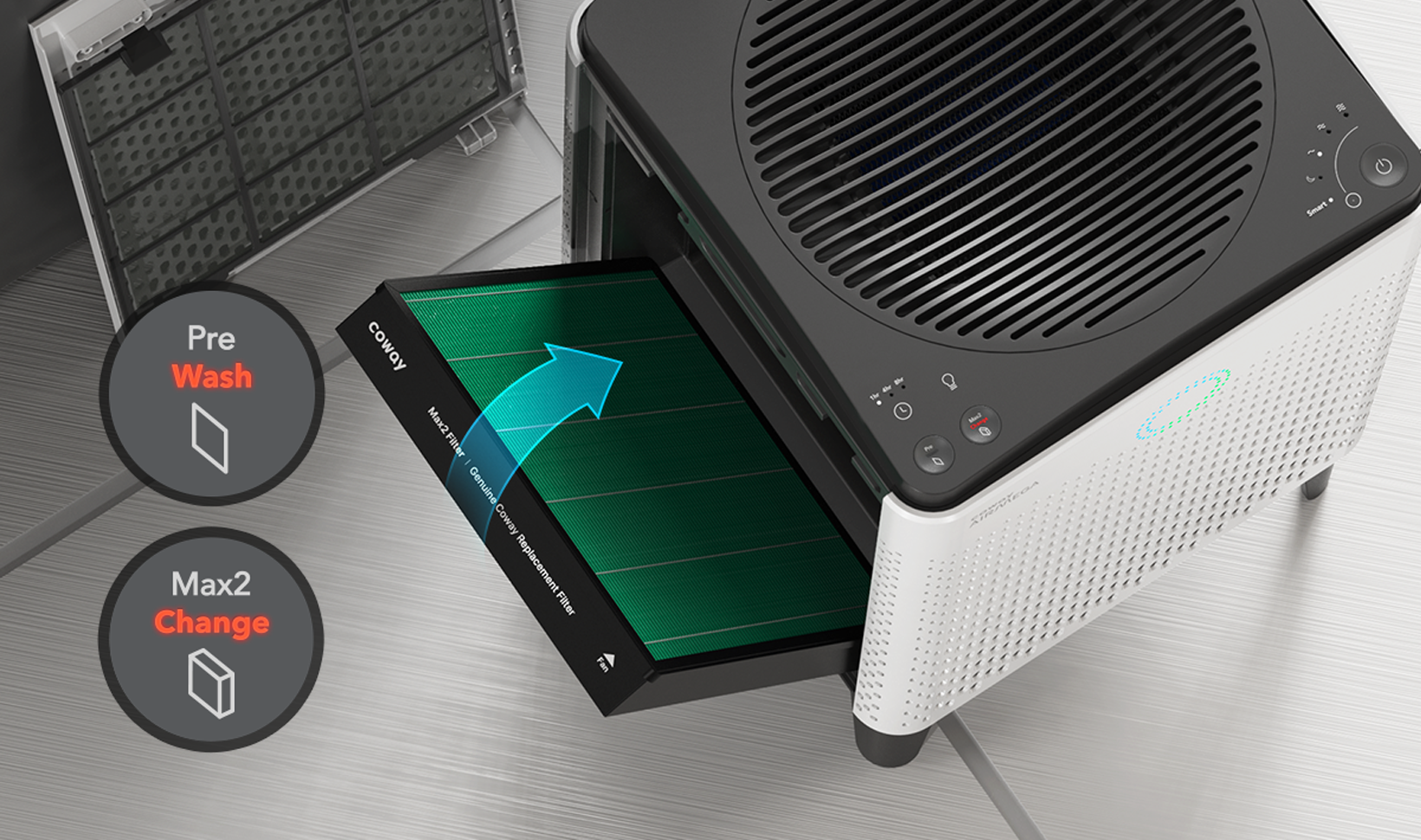 Filter Replacement Indicator
The air filter indicator tells you when the two Max2 filters need to be replaced, and the pre-filters need to be cleaned for maximum efficiency, based on how much air they have processed.
Clean air can be effortless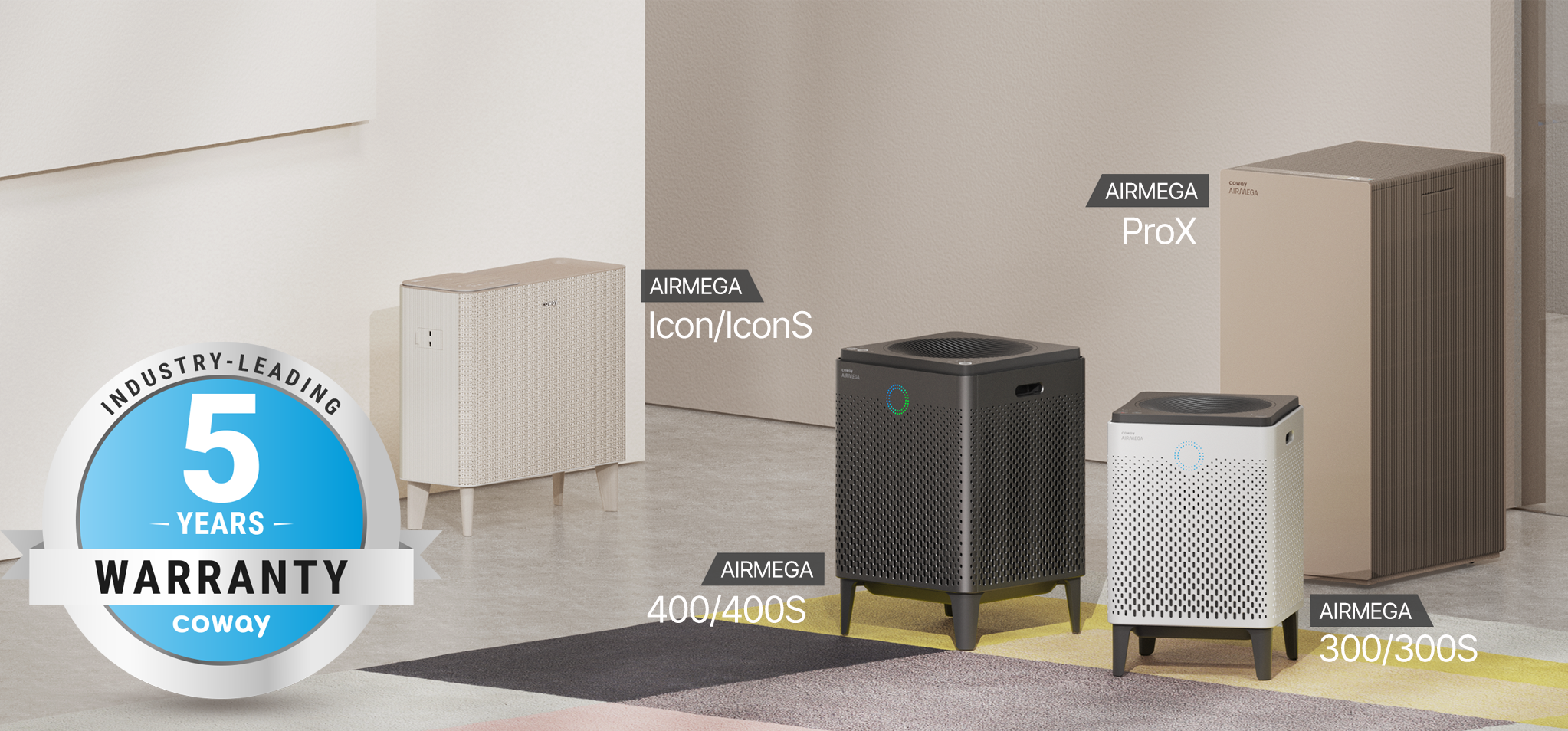 5 Years Warranty
for Airmega 300/300S, 400/400S, Icon/IconS, and ProX.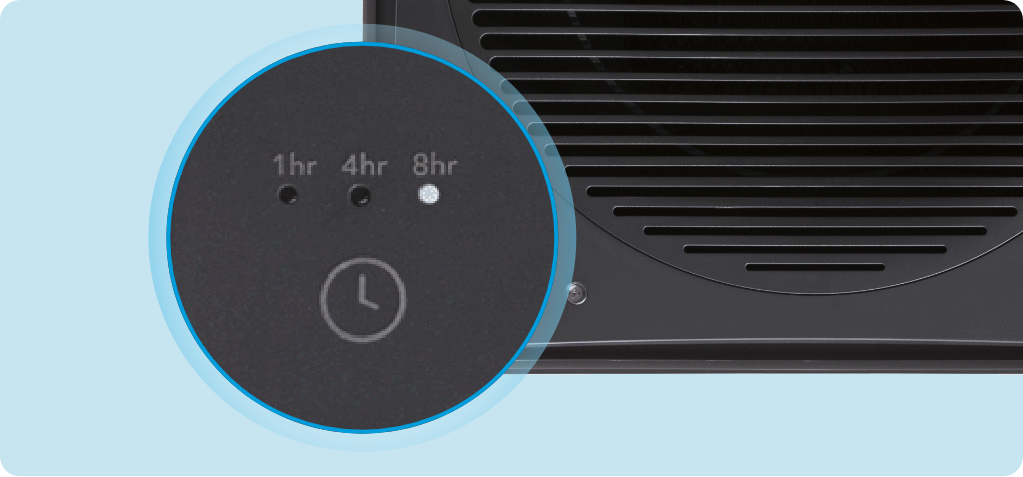 Timer
Schedule the unit to purify for 1, 4 or 8 hours of use, and conserve energy.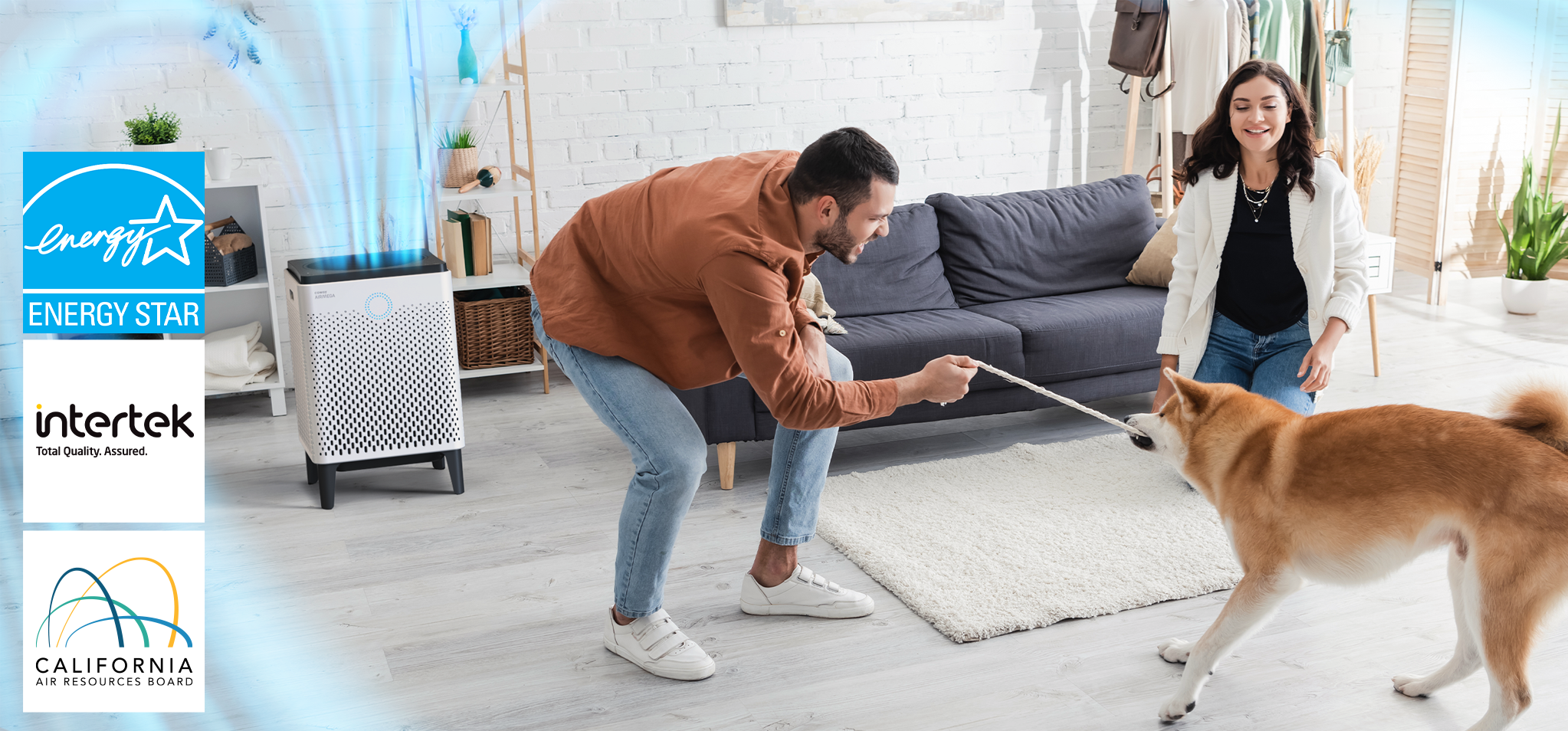 Everyday Savings
Official certification from Energy Star, Intertek, and CARB.
Airmega 300 in your home
Want to share an image of your Coway product? Just tag @Cowaymega on Instagram. See some featured posts below!
<! –– Bazaarvoice Shopify Integration Version 2.1 ––>