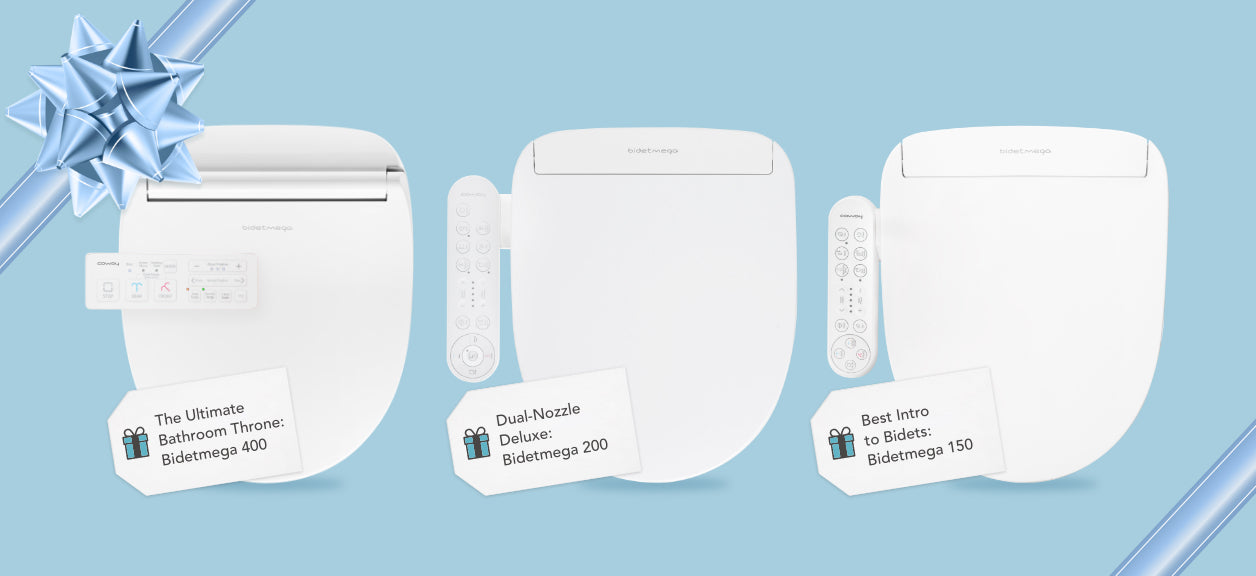 BLOG ARTICLES
Published: Dec 11, 2020
The Ultimate Bidet Gift Guide
This is it. You're ready to purchase or gift a bidet. But which one?
As we shop for friends and our own family, there are a handful of features to consider before you make that awesome bidet toilet seat purchase. We like to think that when it comes to purchasing a Bidetmega, there is no wrong choice—each one is equipped with customizable water pressure and temperature, a heated seat, different modes for a more comfortable wash, and Coway's i-wave technology. But there are some contrasts to consider, and depending on whom the Bidet is for, we'd like to be a gentle guide in leading you toward the right model.
For the person who wants the full spa experience: Bidetmega 400
Wired, a New York Times company, called the Bidetmega 400 a "night-light-laden throne":
The

 

Bidetmega 400

 

ranks highly on a countless number of critics' lists. Every aspect of the Coway bathroom experience has been slowly developed with research to enhance your comfort and well-being, and all of that knowledge has been poured into the design of this model. For the full Coway experience, the

 

Bidetmega 400

 

is the perfect choice for anyone, from bidet beginners to seasoned aficionados.

Bidetmega 400
 i-wave technology
Night light
Advanced wireless remote
Three-stage cleaning care system
Multiple modes for comfort


For the person who wants luxury at a reasonable price: Bidetmega 200
This is pure and simple. In an in-depth review from Business Insider, the Bidetmega 200 was revealed as "the only [bidet toilet seat] that balances high-end features with a reasonable price tag".

Sherri L. Smith from tomsguide.com pegs the Bidetmega 200 as an "enlightened bathroom experience". She continues: "For the money, you get a heated seat and a customizable clean for you and everyone in the family."
Bidetmega 200
i-wave technology

Electrolyzed water clean for elevated hygiene

Multiple modes for comfort

Heated seat

For the first-time bidet user: Bidetmega 150
Simplified to a single nozzle, you might be tempted to see the Bidetmega 150 is a more introductory bidet toilet seat, but packed advanced features that are sure to convert any bidet skeptic, including a toe-saving blue night light. As the newest player in the game, this model shines with Coway's advanced i-wave technology, but still bears a price tag that's more within reach of an average bidet budget.
Learn more about the Bidetmega 150 here.
Bidetmega 150
i-wave technology

Heated seat

Night light
We're so confident of the Bidetmega 400, you can try it out for 90 days* before making your decision. If anything about the bidet toilet seat doesn't satisfy you, you can return the product for a full refund.
See all Bidetmega models here.
Read more about the features of Bidetmega and compare models here.