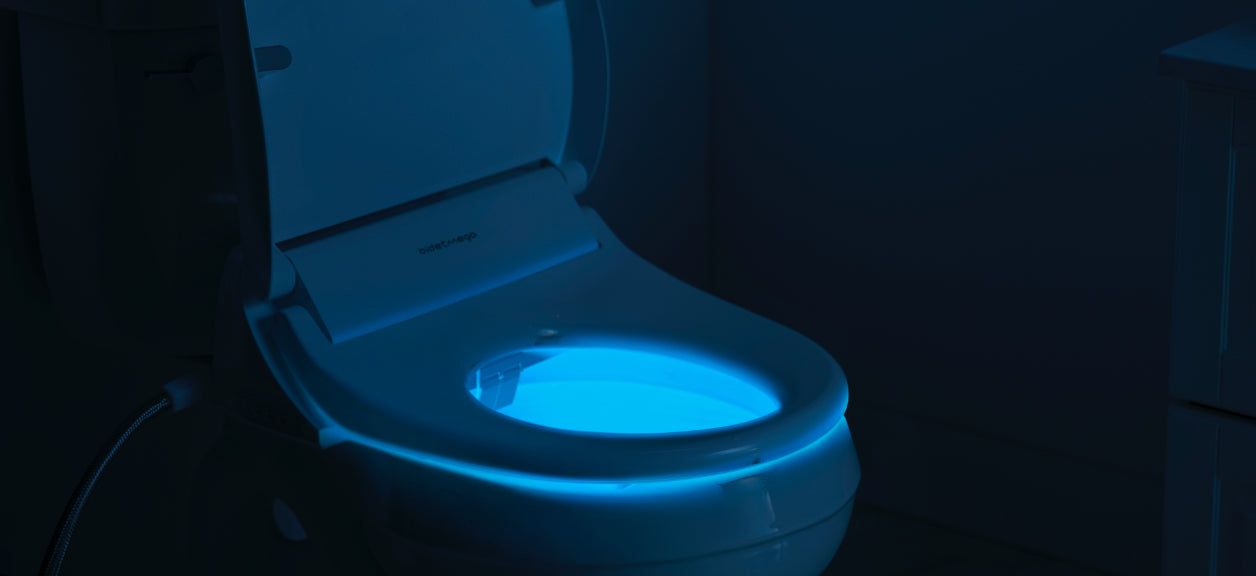 BLOG ARTICLES
Published: Nov 25, 2020
The best bidet with a nightlight: Bidetmega 400 or Bidetmega 150
Find your way in the dark
We've all been there—stumbling in the dark trying to find our way through the bathroom in the middle of the night. Maybe you don't want to turn on the bright light and burn your eyes—maybe you just want to use the toilet quickly and slip quietly back into bed. Luckily, Coway makes incredible, advanced bidet toilet seats equipped with nightlights, which can be turned on and off based on your preference: the Bidetmega 150 and the Bidetmega 400.
Bidetmega toilet seats are thrones with a nightlight
Wired Magazine called the Bidetmega 400 a "night-light-laden throne":
"Coway's heated seat, heated water, auto-cleaning, blow-drying, and night-light-laden throne is a masterpiece of comfort and cleanliness I now can't live without." - Wired, 2020
It's no wonder the Bidetmega 400 ranks so highly on so many critics' lists. Every aspect of the Coway bathroom experience has been slowly developed with research to enhance your comfort and well-being.
Why is the night light blue?
Blue slows down your heart rate and reduces your pulse, which helps you relax your mind and body. Blue helps you relieve the stress of your daily life, and any symptoms of pain, headaches, or insomnia. Blue also highlights any mess around the bowl itself, helping you to maintain the most hygienic toilet possible, inside and out.
Energy cost and longevity
While the light emanating from Bidetmega toilet seatstoilet seats do require electricity, incredibly-efficient LED technology allows light to emanate with very little energy being used. Each light source is the size of a flake of pepper, and uses a fraction of electricity as compared to an incandescent bulb. In addition, you can lower the cost and increase the longevity of the nightlight by turning it off during the day, or at times you know it won't be in use.
90 days of risk-free* cleanliness
We're so confident in the comfort of the Bidetmega 400, you can try it out for 90 days* before making your decision. If anything about the bidet toilet seat doesn't satisfy you, you can return the product for a full refund.
See all Bidetmega models here.