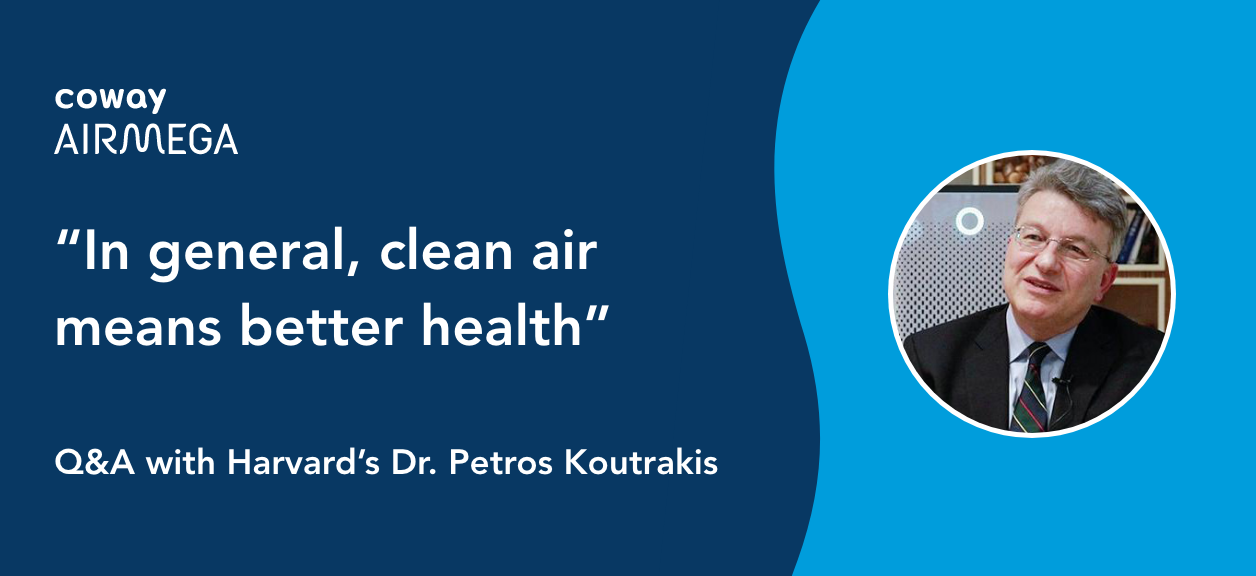 BLOG ARTICLES
Published: Jul 11, 2022
Q&A with Harvard's Dr. Petros Koutrakis
To learn more about how air quality impacts our health, the research team at Coway hosted a Q&A interview with Dr. Petros Koutrakis, Head of the Exposure, Epidemiology and Risk Program and the Director of the EPA/Harvard University Center for Ambient Particle Health Effects. 
Working with Harvard University, Dr. Koutrakis has conducted a number of comprehensive air pollution studies in the United States, Canada, Spain, Chile, Kuwait, Cyprus and Greece that investigate the extent of human exposure to gaseous and particulate air pollutants. He is also a member of international committees and worked as the Technical Editor-in-Chief of the Journal of the Air and Waste Management Association. Dr. Koutrakis has published over 170 peer-reviewed papers on air quality, exposure and health effects assessment and instrumentation. 
Coway (C): Why is it important for consumers and businesses to improve indoor air quality? Should air purifiers be a business staple?
Koutrakis (K): We spend about 80% of our lives indoors, so it's important to make sure that the air is clean, especially for individuals with respiratory or cardiovascular diseases who are more susceptible to illnesses. Air purifiers are even more important in places with lots of outdoor pollution. 
C: So you would say you recommend using an air purifier?
K: Yes, absolutely. There are hundreds of studies that show that air quality is very important for human health. And it's not just for allergies or respiratory diseases; it's also important for cardiovascular issues, mental health, prenatal health and more. It's important for everything.
It would be best if countries could cut emissions and reduce the pollutants in the first place, but until that happens an air purifier is a good way to protect yourself. Based on my knowledge, air filtration, rather than electrostatic precipitators or ionizers, is the most effective protection against viruses. 
C: Do you recommend using an air purifier to protect against covid?
K: Yes, they have been very effective in settings like hospitals and other places to reduce Covid, allergens and viruses. Our studies at Harvard have found that the Covid virus can be suspended in the air for up to 4 hours, so we don't even need a direct contact to contract it. An air purification system protects against that. 
C: How do air purifiers compare to masks and other forms of protection against Covid?
K: We really need to be doing all of the above. I would hesitate to discount anything: social distancing, masks, purifiers, they're all important. It's best to do everything to protect yourself and others. 
C: What is poor air quality's impact on fertility and reproduction?
K: Numerous studies have shown that air pollution can lower birth weight. Birth weight is a good indicator of the baby's general health. If a baby is smaller they might be more predisposed to health problems in the future. It also can cause babies to be born prematurely, which comes with its own set of complications. 
C: What should people do about indoor air when there are wildfires?
K: Unfortunately, due to climate change, wildfires won't be stopping anytime soon. It's important to have a good purifier inside and to clean and change the filters regularly to keep up the machine's filtering ability. 
C: What are other ways businesses and homeowners can improve indoor air quality?
K: If the pollution outside is very bad, you'll want to seal off your home and use a good purifier inside. It's also important to ventilate the house and minimize indoor sources of pollutants like cooking without an exhaust, allowing dust to collect and more.
C: Should businesses or hotels, and other public spaces have air purifiers?
K: The air is never clean enough for people, so the more we clean air, the more people benefit.  Air purifiers aren't as expensive as they once were due to better filtration and technology. Any place that hosts people, whether it's schools, buses, hotels, hospitals, or airplanes, should all be using air purification, not just for the virus, but for overall health. When COVID rates are extremely low, it's important that we continue to protect ourselves by breathing clean air. We have found that even at low concentrations where pollution is very low, we still see affects below the national ambient air quality standards.
C: What features should people look for when purchasing an air purifier as a covid precaution?
K: The most important thing is the purifier should be big enough to process the air in the room. A very small purifier with low CFM is not going to be sufficient to clean a large room. As a rule of thumb, bigger is better. 
Coway Airmega Air Purifiers
Coway Airmega has been tested and proven to capture and remove 99.999%¹ of fine airborne particles and contaminants, and select Airmegas can capture and remove over 99.98%³ of the SARS-CoV-2 Viruses floating in the air. To learn more about Airmega and start improving your own indoor air quality, visit cowaymega.com.
¹

Coway air purifiers has been proven to trap dust, pollen, dander, viruses and bacteria in the air based on KCL(Korea Conformity Laboratories) testing. They have been tested in a 30㎥ size chamber according to the Korea Air Cleaning Association standard (SPS-KACA 002-132:2018 Modified) to measure the 0.01㎛ size of particle removal rate. It was tested on maximum fan speed in normal room temperature and humidity conditions. The performance may vary in the actual living environment of customers. 
→ Tested with 150, 160, AP-1216L, AP-1512HH, AP-1512HHS, 200M, Icon, IconS, 230, 240, 250, 250S, 300, 300S, 400, 400S 
³

Aerosol test conducted in a Biosafety level 3 laboratory with Coway Airmega air purifier models, Airmega 250 and 400 for removal of SARS-CoV-2 Aerosol by US based MRI Global, a not-for-profit laboratory and partner of US Department of Defense. The test was conducted in a 13.1ft3 chamber. Virus was aerosolized for 15 minutes, and the product was turned on high for 2 minutes. Results showed each product effectively removed over 99.98% of the SARS-CoV-2 in 2 minutes. This results from a laboratory experiment condition and may vary in different conditions. This result does not imply it kills SARS-CoV-2 or prevents the transmission of Covid-19. The Coway Airmega 250S and 400S are identical to the tested models and have equal performance with an additional mobile connectivity function.