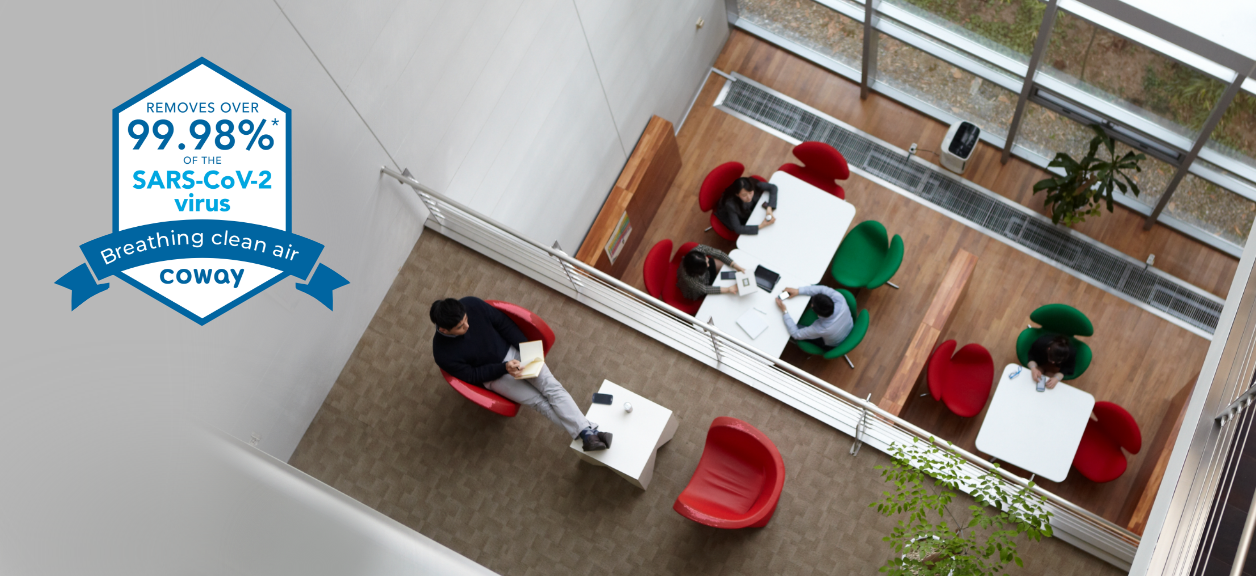 BLOG ARTICLES
Published: Jul 28, 2022
Airmega Combats COVID-19
Just over two years have passed since the initial outbreak of the SARS-CoV-2 virus, also known as COVID-19. While recovery from the pandemic continues to occur at varying rates across different countries, states and municipalities and some people are lucky enough to work from home and remain low risk, COVID-19 is still very much a concern for those who had to return to work in person. 
Avoiding COVID-19 at the workplace
There is an increased risk of contracting COVID-19 in enclosed indoor spaces. A combination of crowded rooms and poor ventilation spell a recipe for increased cases in the workplace. Luckily, Airmega can help combat this. 
Certain Airmega purifiers have been tested and proven to capture and remove 99.98%* of SARS-CoV-2 viruses floating in the air. When considering an Airmega for your business or workplace, make sure to select a unit that can filter all the air in the room. Smaller air purifiers that are not equipped to filter large amounts of air will not be as effective in removing viruses and other pollutants and contaminants from the air as larger air purifiers.
Airmega 250 offers 930 sq ft of coverage and cleans the air at least two times per hour when used as recommended. Its pollution sensor communicates indoor air quality testing in real-time and three-setting smart mode allows it to adapt to its surroundings for efficient air purification. Airmega 250's timer allows you to set the machine to filter for a specific amount of time.
Airmega 400 offers ​​1,560 sq ft of coverage and is outfitted with HyperCaptive™ Air Filtration, a combination of a Green True HEPA™ filter and an activated carbon deodorizing filter that exceed the EPA's recommendation for air purification standards. It also offers Smart Mode, monitoring, a timer and more.
Shop Airmega
Coway's Airmegas come in many shapes and sizes. Browse our line and select the one which best suits your needs at cowaymega.com.
*Aerosol test conducted in a Biosafety level 3 laboratory with Coway Airmega air purifier models, Airmega 250 and 400 for removal of SARS-CoV-2 Aerosol by US-based MRI Global, a not-for-profit laboratory and partner of US Department of Defense. The test was conducted in a 13.1ft3 chamber. Virus was aerosolized for 15 minutes, and the product was turned on high for 2 minutes. Results showed each product effectively removed over 99.98% of the SARS-CoV-2 in 2 minutes. This results from a laboratory experiment condition and may vary in different conditions. This result does not imply it kills SARS-CoV-2 or prevents the transmission of Covid-19. The Coway Airmega 250S and 400S are identical to the tested models and have equal performance with an additional mobile connectivity function.