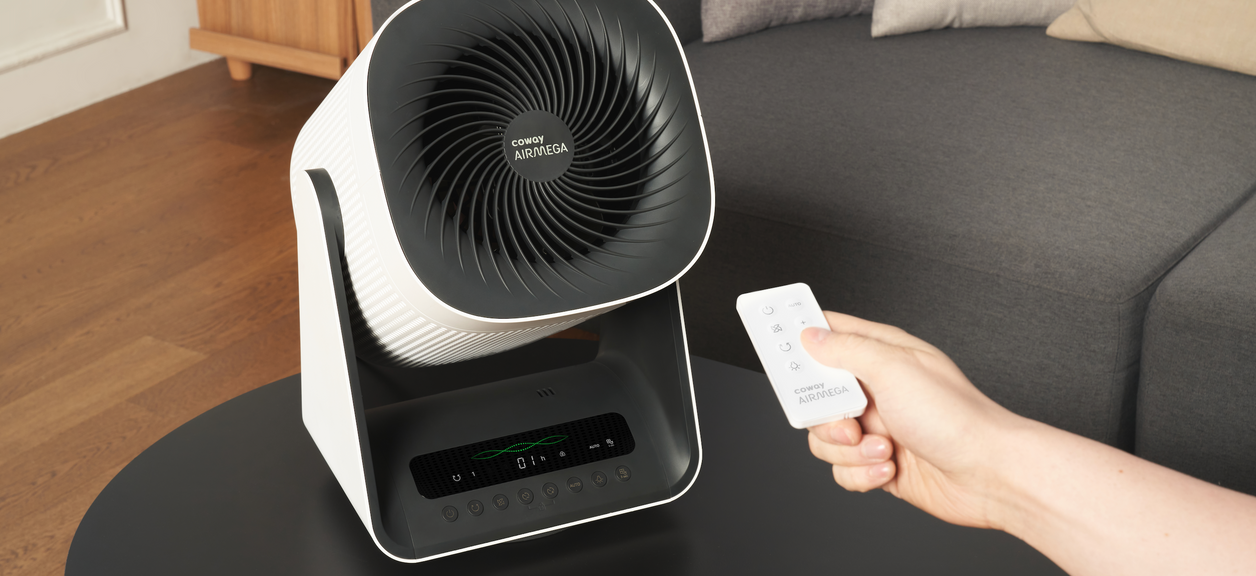 BLOG ARTICLES
Published: Oct 10, 2023
5 Reasons Your Home Needs an Energy Efficient Air Purifier
There are two critical factors that none of us can afford to ignore any longer in the home. The first is the importance of the air quality we breathe. The second is the cost of the energy we're consuming. You can solve both at the same time with an energy-efficient air purifier that uses the least amount of energy to eliminate the maximum level of allergens, pollutants and particles. We're proud to offer a best-in-class selection of award-winning air purifiers to get the job done. 
We Count (At Least) 5 Reasons Why Clean Indoor Air Matters
Air quality has a direct impact on our quality of life, yet it's an element too many for us to ignore. However, if you're suffering from asthma or respiratory issues, solving the first few challenges on our list will be an urgent priority. 
Trap dust, pollen and pet dander
These are the larger particles that can trigger asthma and allergies. Whether they're entering the house through doors and windows, or circulating inside from pets or people, catch them with the Pre-Filter in our air purification units. 
Neutralize bacteria and viruses
Bacteria and viruses have been on our minds (and in our airways) a lot more since 2020, but it's a recurring concern every flu season as well. The more people in the house, the greater the risk. Luckily, our Green True HEPA™ filter can remove 99.98% of SARS-CoV2 virus in just 2 minutes.
Eliminate harmful VOCs and pollutants
These range from hidden irritants to silent killers, and they're coming from our cleaning products, furniture (treated wood), stove, air ducts (mold) and building materials (asbestos). An efficient, low-energy way to remove them is with an activated carbon layer (featured in our Max2 filter). 
Improved mental health
The combined effects of the above can lead to obvious symptoms, such as wheezing and sneezing, as well as more subtle signs, such as brain fog, low energy, poor concentration or irritability. Start purifying your air, however, and you'll notice a marked improvement in your mood, focus and mental health. Enjoy the benefits of a "walk in the fresh air to clear your head" without leaving the house. 
Better alternative to air conditioning
You might not be able to live without your air conditioning unit in the summer months, but it's emitting harmful gasses, including carbon monoxide and freon, into the air you breathe. Not to mention the huge hit you'll be taking on your utility bills. A more efficient, clean alternative is to set up a dehumidifier and air purification system instead. Often, it's the moisture in the air that's most uncomfortable (particularly at night). A dehumidifier dries the air, while the air purifier lets you run fans without circulating allergens, dust and more. 
Sounds Like a Lot of Energy?
An air purifier accounts for less than 1% of typical household energy consumption. Most will run on 10W to 30W, drawing the same as a computer monitor of a regular fan, for example.
Bear in mind that half your household energy consumption goes towards heating and cooling, and another quarter on lighting and water heating. The impact from a single air purifier (or set) is negligible compared to the big power pullers like refrigerators, washers/dryers or electric ovens. 
How Coway Keeps the Costs Down
Our air purification units offer unbeatable filtration without compromising on energy efficiency. We're proud to be Energy Star certified.
While you could run your air purifier constantly, our smart adjustable modes mean you don't have to. With "set and forget" functionality, your unit will come on only when air quality drops to a critical threshold. We achieve that through the following features:
Auto mode constantly monitors air quality and adjusts to the most effective setting

Sleep mode reduces noise and consumption, and you can set it to the adjustable setting while asleep

Eco mode sets to standby if pollution level remains good for 30 minutes
Find the Most Efficient System for Your Home
If you want to breathe the best quality air in your home without having to hold your breath every time the utility bill arrives, you can turn to Coway. That's not spin or bragging. The experts agree. 
These are just a few of the bestselling units from Cowaymega that customers are using to take control of their air quality without losing control of their energy consumption. To see the full range of systems, learn more about how they work, and find the right model for your space, start here.
Disclaimers
1Coway air purifiers has been proven to trap dust, pollen, dander, viruses and bacteria in the air based on KCL (Korea Conformity Laboratories) testing.They have been tested in a 30㎥ size chamber according to the Korea Air Cleaning Association standard (SPS-KACA 002-132:2022 Modified) to measure the 0.01㎛ size of particle removal rate. It was tested on maximum airflow speed in normal room temperature and humidity conditions. The performance may vary in the actual living environment of customers.
→ Tested with Airmega Aim, 150, 160, AP-1216L, AP-1512HH, AP-1512HHS, 200M, Icon, IconS, 230, 240, 250, 250 Art, 250S, 300, 300S, 400, 400S, ProX
299.97% of viruses, bacteria, fungi and pollen were verified to be removed from the air for Coway air purifiers which have Green True HEPA™ filter applied based on the Japan Food Research Laboratories(JFRL) testing according to JEM 1467 standard.
→ Tested with Coway Airmega AP-1512HH, AP-1512HHS, 250, 250 Art, 250S, 300, 300S, 400, 400S
→ All tested by JFRL and received above result within below time.

All tested by JFRL and received above result within below time.

- Virus: Tested with Escherichia coli phage ΦX174 NBRC 103405, 60 minutes
- Bacteria: Tested with Staphylococcus epidermidis NBRC 12993, 60 minutes
- Fungi/Mold: Tested with Penicillium citrinum NBRC 6352, 60 minutes
- Pollen: Tested with Cedar Pollen extract, 60 minutes

3Aerosol test conducted in a Biosafety level 3 laboratory with two Coway air purifier models, Coway Airmega 250 and 400 for removal of SARS-CoV-2 Aerosol by US based MRI Global, a not-for-profit laboratory and partner of US Department of Defense. The test was conducted in a 13.1ft3 chamber. Virus was aerosolized for 15 minutes and the product was turned on high for 2 minutes. Result showed each product effectively removed over 99.98% of the SARS-CoV-2 in 2 minutes. This is a result from a laboratory experiment condition and result may vary in different conditions. This result does not imply it kills SARS-CoV-2 or prevents the transmission of Covid-19. Coway Airmega 250S and 400S are identical to the tested models and has equal performance with an additional mobile connectivity function.
4The concentration of ammonia, acetaldehyde and acetic acid were proven to be removed within 30 minutes by FCG Research Institute, Inc. Human Life Science Lab. It is not a demonstration result in the actual use space. Not all odors and gases may be supported. → Tested with Coway Airmega 150, 160, AP-1512HH, AP-1512HHS, 400, 400S
5The coverage area of the air purifier is based on an area where the air cleaner can make two air changes per hour (ACPH). An air change per hour translates to how many times an air purifier can clean an area, assuming the height of a ceiling to be 8 ft, in one hour. Therefore ** means two air changes per hour means that the cleaner can clean the area once every 30 minutes and * means air changes per hour means that the air purifier can clean the area once every 60 minutes.
10Terms and conditions apply. Discounts, including promotions, coupons, and bundle pricing, cannot be stacked on top of other coupons. During promotional periods, discount codes will not be able to be applied to orders. Promo codes may apply to products only—filters, accessories, and new products within 3 months of the release date are not included.