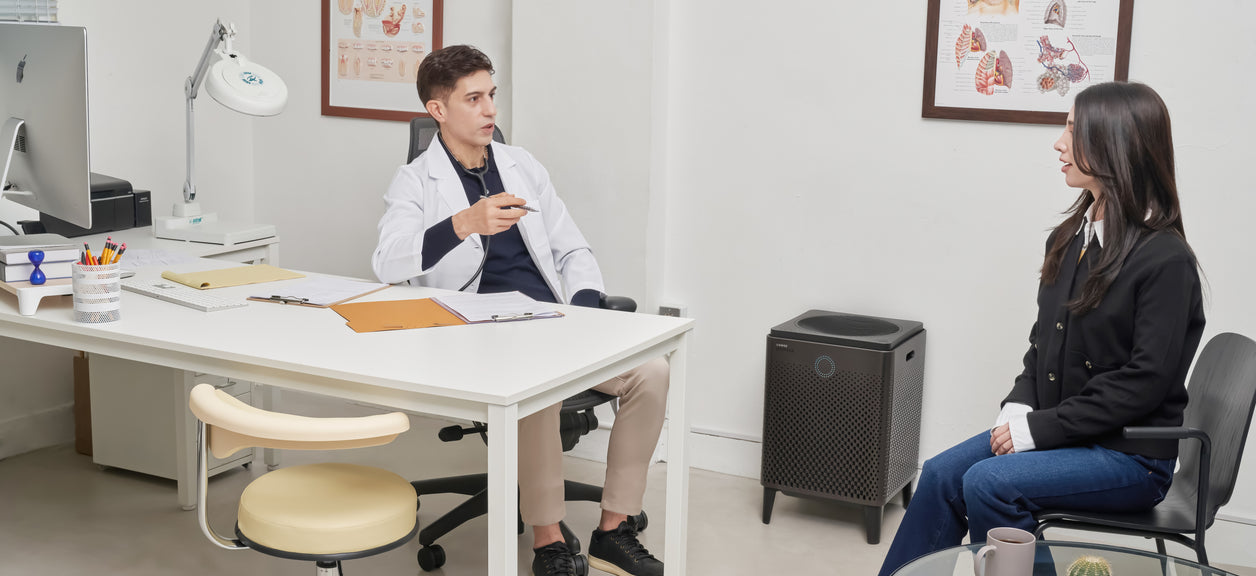 BLOG ARTICLES
Published: May 03, 2023
Take the Worry Out of Breathing with a Smart Air Purifier
Not all air purifiers are smart. They don't know when the air is clean, they don't know how much energy they're using, they don't tell you when to replace a filter, and they don't simplify your life—which is what air purification should do. 
While utilizing an air purification system for an office or business is an exceptional way of telling your staff and guests that you care, it's important to find the right solution that removes the barriers for maintenance as well as efficient usage. Let's be real—who's going to sign up to replace the air purifier filter every 6-12 months and turn it off when the air is clean?
Work Smarter
Coway knows that in order to optimize indoor air quality in large and small public indoor spaces, air purifiers need to be properly maintained and looked after. But most homes and offices don't have the human resources to properly maintain and operate an air purifier for optimal performance. That's why Coway  built our air purifiers to be smarter. Our Airmega Series air purifiers are designed to function autonomously in any environment so all you have to do is step inside, relax, and breathe easy. 
Let's dive into some of Coway's Airmega features that make life (and breathing) smarter.
1. Real-Time Air Quality Monitoring
Coway Airmega's pollution sensor communicates indoor air quality in real-time, so you always know what you're breathing in. Fitted with a bright air quality LED ring, the Coway Airmega reports how clean your air is every minute of the day with a ranking system from Good, to Moderate, Unhealthy, and Very Unhealthy. Not to mention, the smart particle sensors detect different PM levels to adjust fan speed. Now that you know what you're breathing in, you can make the proper adjustments to ensure you and yours remain healthful.
2. Smart Mode
Get yourself an air purifier that does it all. With three smart settings, the Coway Airmega smart air purifier automatically adapts to its surroundings, adjusting fan speeds automatically based on the room's air quality and lighting conditions. Built with optimal energy efficiency in mind, the Coway Airmega minimizes costs by self-regulating its usage based on real-time measurements.
3. Auto Mode
Turn it on. Forget about it. The Airmega smart auto mode ensures optimal functionality by adjusting fan speeds based on current air quality measurements. When the air quality is Good, the fan rotates slowly for energy efficiency. When the air quality is Very Unhealthy, the fan rotates rapidly to eliminate pollutants to ensure your office, restaurant, medical practice, or classroom is healthful.
4. Eco Mode
There's no point in running an air purifier all day and night when the air is already purified, right? But most air purifiers don't have the brains to know when the air is at an optimal quality level. With the Airmega Eco Mode, the basic function is to cease operation in favor of saving energy once it is unneeded. If the current air quality level remains healthy and stable for 10 minutes in Smart Mode, the fan will stop. If 30 minutes pass, or rising levels of air pollution are detected, the fan will automatically activate. After all, wasted energy directly contributes to air pollutants—which is exactly what we're trying to avoid. 
5. Sleep Mode
Coway air purifiers are built to run 24/7/365. That being said, the Coway Airmega smart sleep mode ensures that you never waste energy when your air is clean. With built-in light and pollution sensors, the Coway Airmega detects when a room is both dark and producing clean air, and automatically reduces noise and power consumption to ensure you breathe easy without breaking the bank on energy costs. 
6. Filter Replacement Indicator
Coway Max2 air purifier filters should be replaced once per year, depending on usage and environment. Genuine Coway filters are crucial for optimal fit and best performance from your air purifier. That being said, we're fairly certain there are zero people in your office or household who'll remember to change those filters every few months. So, we created a filter replacement indicator that lets you know exactly when it's time to pop a new one in. Proper maintenance = proper air quality.
7. Smart Integration
A smart air purifier built for a smart home—that's what Coway is all about. With the Airmega mobile app, IoCare, you can use voice activation or manual entry to control your air purifier from anywhere 24/7 with Google Home or Amazon Alexa. Not only that, but the Airmega mobile app also reports both indoor and outdoor air quality in real time, and offers a scheduling function so you can properly adjust your usage to your lifestyle demands. Step inside to fresh clean air all day, every day with smart integration features.
At Coway, we're dedicated to providing our customers with the most advanced air purification systems on the market to ensure you lead a healthful lifestyle. As the world continues to evolve, so do we. It's time to be smart about our indoor environments. It's time to surround ourselves with smart air.
Disclaimers
1Coway air purifiers has been proven to trap dust, pollen, dander, viruses and bacteria in the air based on KCL (Korea Conformity Laboratories) testing.They have been tested in a 30㎥ size chamber according to the Korea Air Cleaning Association standard (SPS-KACA 002-132:2022 Modified) to measure the 0.01㎛ size of particle removal rate. It was tested on maximum airflow speed in normal room temperature and humidity conditions. The performance may vary in the actual living environment of customers.
→ Tested with Airmega Aim, 150, 160, AP-1216L, AP-1512HH, AP-1512HHS, 200M, Icon, IconS, 230, 240, 250, 250 Art, 250S, 300, 300S, 400, 400S, ProX
299.97% of viruses, bacteria, fungi and pollen were verified to be removed from the air for Coway air purifiers which have Green True HEPA™ filter applied based on the Japan Food Research Laboratories(JFRL) testing according to JEM 1467 standard.
→ Tested with Coway Airmega AP-1512HH, AP-1512HHS, 250, 250 Art, 250S, 300, 300S, 400, 400S
→ All tested by JFRL and received above result within below time.

All tested by JFRL and received above result within below time.

- Virus: Tested with Escherichia coli phage ΦX174 NBRC 103405, 60 minutes
- Bacteria: Tested with Staphylococcus epidermidis NBRC 12993, 60 minutes
- Fungi/Mold: Tested with Penicillium citrinum NBRC 6352, 60 minutes
- Pollen: Tested with Cedar Pollen extract, 60 minutes

3Aerosol test conducted in a Biosafety level 3 laboratory with two Coway air purifier models, Coway Airmega 250 and 400 for removal of SARS-CoV-2 Aerosol by US based MRI Global, a not-for-profit laboratory and partner of US Department of Defense. The test was conducted in a 13.1ft3 chamber. Virus was aerosolized for 15 minutes and the product was turned on high for 2 minutes. Result showed each product effectively removed over 99.98% of the SARS-CoV-2 in 2 minutes. This is a result from a laboratory experiment condition and result may vary in different conditions. This result does not imply it kills SARS-CoV-2 or prevents the transmission of Covid-19. Coway Airmega 250S and 400S are identical to the tested models and has equal performance with an additional mobile connectivity function.
4The concentration of ammonia, acetaldehyde and acetic acid were proven to be removed within 30 minutes by FCG Research Institute, Inc. Human Life Science Lab. It is not a demonstration result in the actual use space. Not all odors and gases may be supported. → Tested with Coway Airmega 150, 160, AP-1512HH, AP-1512HHS, 400, 400S
5The coverage area of the air purifier is based on an area where the air cleaner can make two air changes per hour (ACPH). An air change per hour translates to how many times an air purifier can clean an area, assuming the height of a ceiling to be 8 ft, in one hour. Therefore ** means two air changes per hour means that the cleaner can clean the area once every 30 minutes and * means air changes per hour means that the air purifier can clean the area once every 60 minutes.
10Terms and conditions apply. Discounts, including promotions, coupons, and bundle pricing, cannot be stacked on top of other coupons. During promotional periods, discount codes will not be able to be applied to orders. Promo codes may apply to products only—filters, accessories, and new products within 3 months of the release date are not included.