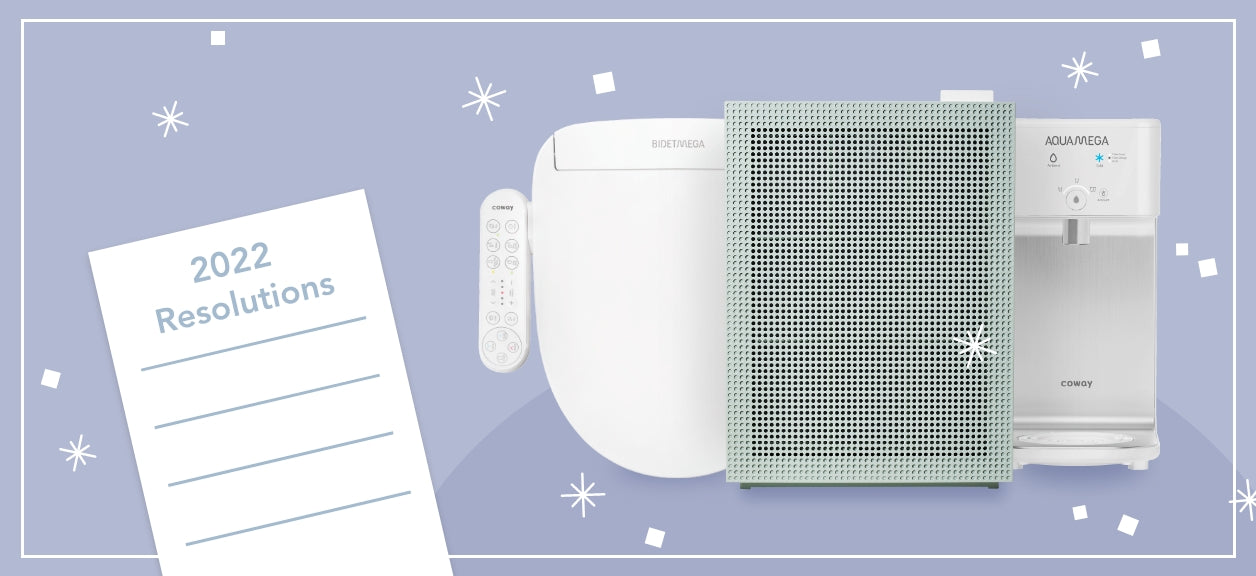 BLOG ARTICLES
Published: Dec 27, 2021
These products can help you keep your New Year's resolutions
Be ready to tackle your resolutions for the new year ahead.
Millions of us are making resolutions to spark positive change in our lives. Every year, there are recurring themes, most of which are taking a more active approach to our health. A study published in the Journal of Clinical Psychology found that only 46% of people who made New Year's resolutions were successful. That means the odds may be stacked against you. Whether exercising more at home, getting better sleep, or improving your daily routine, below are a few products to consider helping you along your journey.
I want to exercise more at home: Airmega 250S
Setting up a space in your living room to move your body is simple enough, and there are plenty of at-home exercise products that fit into small spaces. You may even consider learning a calisthenics routine that requires no equipment at all! Still, working out at home means breathing a lot of your indoor air, which often contains harmful particles, stunting or stopping your health benefits entirely. Using an advanced air purifier like Coway's Airmega 250S with HyperCaptive™ filtration efficiently captures various harmful sources and removes 99.999%* of ultra-fine particles down to 0.01 microns, which is smaller than most viruses and bacteria. Airmega air purifiers have been featured on many lists of the world's best purifiers, so you know you're getting clean air, and incredible value.
Learn more about Airmega 250S.
I want to improve my daily routine: Bidetmega 150
It's important to feel clean, refreshed and ready for the day each morning. If your routine doesn't feel like that, consider adding an advanced bidet like the Bidetmega 150 to your bathroom. It's easy to install, and it's an instant upgrade for your personal hygiene, and the cleanliness of your bathroom's space. With a heated seat, warm air dryer, and adjustable water temperature, it's a very comforting addition to your routine during winter.
Learn more about Bidetmega 150.
I want to drink more water: Aquamega 200C
One of the most significant changes you can make to your health is to stay well-hydrated, especially in the morning. With a little motivation from one-button purified water, you can take your water intake to the next level. The sleek, modern design of the Aquamega 200C makes it a perfect fit for kitchen counters—and will always be there to remind you to hydrate!
Learn more about Aquamega 200.
I want to get better sleep: Airmega 150 and Airmega 200M 
There are a multitude of ways to improve your before-bed routine, but once you are lying in bed, the room's air can be a huge factor as to your quality of sleep. Even if you don't suffer from allergies or asthma, breathing clean air can help you get your necessary REM sleep, and wake up feeling refreshed. The best air purifier for the bedroom will be compact, whisper-quiet, and with an option to turn off the lights for a dark room. Both the Airmega 150 and the Airmega 200M are wonderful options.
Learn more about Airmega 200M.
Make your New Year's resolutions happen
Good news! The previously-mentioned study published in the Journal of Clinical Psychology also revealed that people who had goals but did not make a New Year's resolution had only 4% success. That means that making a resolution is a huge step toward achieving your vision!
*Coway air purifiers have been proven to trap dust, pollen, dander, viruses and bacteria in the air based on KCL(Korea Conformity Laboratories) testing. They have been tested in a 30㎥ size chamber according 

to the Korea Air Cleaning Association standard (SPS-KACA 002-132:2018 Modified) to measure the 0.01㎛ size of particle removal rate. It was tested on maximum fan speed in normal room temperature and 

humidity conditions. The performance may vary in the actual living environment of customers. Tested with Coway Airmega 150, AP-1216L, AP-1512HH, AP-1512HHS, 200M, 250S, 250, 300, 300S, 400, 400S.