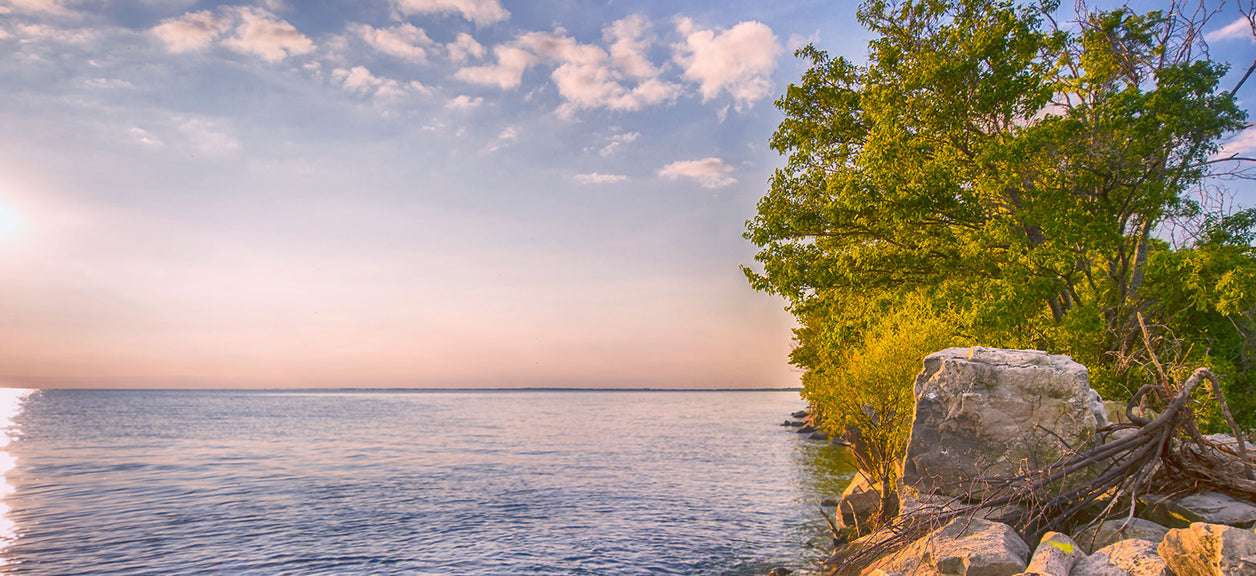 BLOG ARTICLES
Published: Mar 29, 2019
Does a lake have rights?
On Saturday, August 2nd, 2014, the residents of Toledo, Ohio woke up to a warning that no one wants to hear: do not drink the water. Toledo sits on the banks of Lake Erie, the drinking water source for over 11 million people in the area. In the days prior, the clear lake had turned yellowish-green. City officials issued the order after lake water tested positive for microcystin, a toxin produced during algal bloom. The officials believed the bloom was caused by agricultural runoff from nearby farms.
No clean drinking water
For three days, people relied on bottled water. During that time, they couldn't drink the tap water, use it to cook, or use it to brush their teeth. A resident, Randy Nissen, told the New York Times, "I'm worried that when the water comes back on, everything will go back to the status quo, and no one will address the problems that caused this."
The Lake Erie Bill of Rights
Nissen was not alone in his fears. Following the water crisis, people formed advocacy groups, including Toledoans for Safe Water, to protect Lake Erie in the future. Together they created the Lake Erie Bill of Rights (LEBOR). It declares that the lake has the right to "exist, flourish, and naturally evolve." If businesses or people are caught violating this right, they can be sued on behalf of the lake.
The voters speak
In late 2018, the Lucas County Board of Elections approved a special election for voters to decide whether or not Lake Erie should be granted its own Bill of Rights. On February 26th, 2019, the people of Toledo passed the measure. As a result, Lake Erie now has legal rights similar to human beings.
Not so fast
The day after voters approved the LEBOR, Mark Dewes, a local farmer, filed a lawsuit to contest its constitutionality. The Ohio Farm Bureau came out in support of Mr. Dewes, stating that the initiative disrupts "federal constitutional rights, including equal protection and freedom of speech." The suit also aims to prevent the measure from going into effect. Community groups have vowed to keep fighting, and this issue is sure to remain in the news. 
In your own home, the Coway Aquamega 100 and 200 can provide fresh, clean water at the kitchen tap every day. The filtering system easily installs to any standard faucet and greatly reduces common water contaminants, including mercury and lead. Its sleek design adds beauty to the kitchen, too, while producing refreshing water.
Disclaimers
1Coway air purifiers has been proven to trap dust, pollen, dander, viruses and bacteria in the air based on KCL (Korea Conformity Laboratories) testing.They have been tested in a 30㎥ size chamber according to the Korea Air Cleaning Association standard (SPS-KACA 002-132:2022 Modified) to measure the 0.01㎛ size of particle removal rate. It was tested on maximum airflow speed in normal room temperature and humidity conditions. The performance may vary in the actual living environment of customers.
→ Tested with Airmega Aim, 150, 160, AP-1216L, AP-1512HH, AP-1512HHS, 200M, Icon, IconS, 230, 240, 250, 250 Art, 250S, 300, 300S, 400, 400S, ProX
299.97% of viruses, bacteria, fungi and pollen were verified to be removed from the air for Coway air purifiers which have Green True HEPA™ filter applied based on the Japan Food Research Laboratories(JFRL) testing according to JEM 1467 standard.
→ Tested with Coway Airmega AP-1512HH, AP-1512HHS, 250, 250 Art, 250S, 300, 300S, 400, 400S
→ All tested by JFRL and received above result within below time.

All tested by JFRL and received above result within below time.

- Virus: Tested with Escherichia coli phage ΦX174 NBRC 103405, 60 minutes
- Bacteria: Tested with Staphylococcus epidermidis NBRC 12993, 60 minutes
- Fungi/Mold: Tested with Penicillium citrinum NBRC 6352, 60 minutes
- Pollen: Tested with Cedar Pollen extract, 60 minutes

3Aerosol test conducted in a Biosafety level 3 laboratory with two Coway air purifier models, Coway Airmega 250 and 400 for removal of SARS-CoV-2 Aerosol by US based MRI Global, a not-for-profit laboratory and partner of US Department of Defense. The test was conducted in a 13.1ft3 chamber. Virus was aerosolized for 15 minutes and the product was turned on high for 2 minutes. Result showed each product effectively removed over 99.98% of the SARS-CoV-2 in 2 minutes. This is a result from a laboratory experiment condition and result may vary in different conditions. This result does not imply it kills SARS-CoV-2 or prevents the transmission of Covid-19. Coway Airmega 250S and 400S are identical to the tested models and has equal performance with an additional mobile connectivity function.
4The concentration of ammonia, acetaldehyde and acetic acid were proven to be removed within 30 minutes by FCG Research Institute, Inc. Human Life Science Lab. It is not a demonstration result in the actual use space. Not all odors and gases may be supported. → Tested with Coway Airmega 150, 160, AP-1512HH, AP-1512HHS, 400, 400S
5The coverage area of the air purifier is based on an area where the air cleaner can make two air changes per hour (ACPH). An air change per hour translates to how many times an air purifier can clean an area, assuming the height of a ceiling to be 8 ft, in one hour. Therefore ** means two air changes per hour means that the cleaner can clean the area once every 30 minutes and * means air changes per hour means that the air purifier can clean the area once every 60 minutes.
10Terms and conditions apply. Discounts, including promotions, coupons, and bundle pricing, cannot be stacked on top of other coupons. During promotional periods, discount codes will not be able to be applied to orders. Promo codes may apply to products only—filters, accessories, and new products within 3 months of the release date are not included.