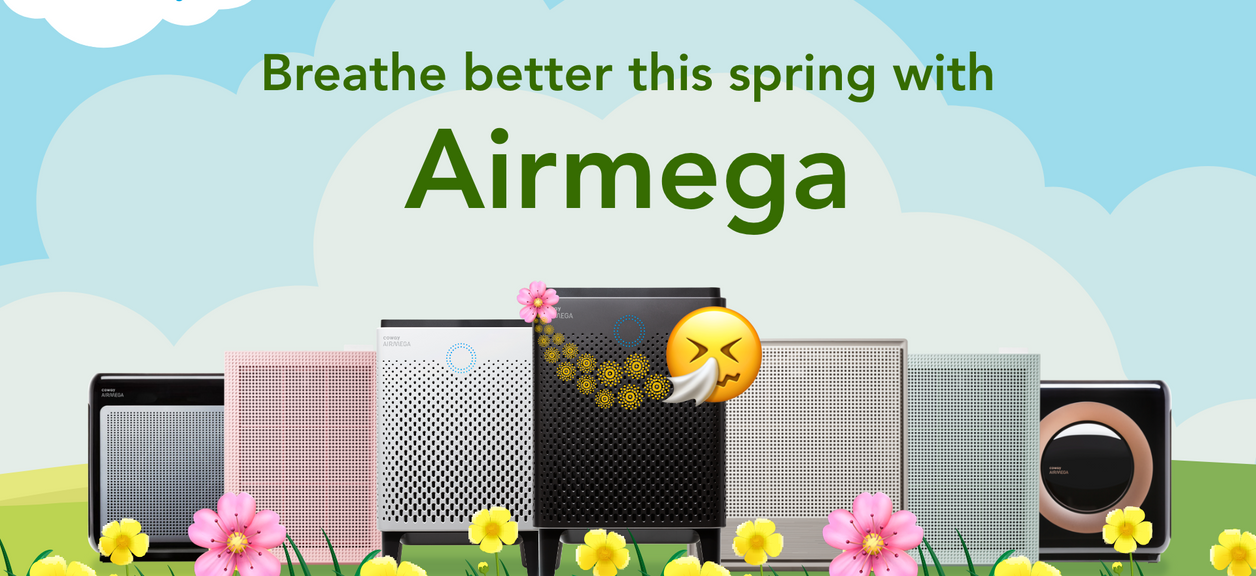 BLOG ARTICLES
Published: Mar 17, 2022
Breathe better this spring with Airmega
The snow is melting, the birds are singing and the air is full of pollen and dander. This can only mean one thing: it's finally spring! While the outdoor air may be full of allergens that are impossible to control, you can eliminate indoor allergens and maintain the clean, fresh air in your home with Airmega.
An air purifier is a must-have during allergy season, and Airmega is the best of the best. With multi-stage filtration and a patented network of capture technologies, Airmega is able to filter out and remove up to 99.999%* of nano-sized particles down to 0.01 micron in size – that's smaller than most allergens, bacteria, mold and viruses! For comparison, an average grain of pollen is 10–70 microns in diameter.
Spring is in the air
It feels like allergy season starts earlier and packs a stronger punch year after year, and 2022 follows suit as another particularly bad season for allergy sufferers. The rise in allergies can be attributed to many factors, including rising pollen levels and a longer pollen season due to climate change, as well as bacterial by-products from livestock, according to Maria Slack, MD, MMSc. However, the season isn't the only culprit; in the past several years, the percentage of Americans with allergies has increased to 30-40%.
The importance of clean indoor air
Although warmer weather means we will all be spending more time outside, it is still important to maintain the quality of our indoor air.
Unfiltered air is more prone to carrying dangerous contaminants. More serious than pollen that may have tracked in on shoes and clothes are mold spores, particles between 4–20 microns in diameter that can cause serious illness and even death when inhaled.
Breathe easy with Coway Airmega
Coway Airmega smart HEPA air purifiers are designed to ensure your indoor air is cleaner, with fewer harmful particulates and unpleasant odors. And, as more people become vaccinated and indoor gatherings become more common, it's a bonus to know that Coway Airmega purifiers are proven to capture and remove over 99.98%** of the SARS-CoV-2 Viruses floating in the air.

The Airmega is perfect for improving air quality in living rooms, bedrooms, classrooms, studios and small offices. With coverage of up to 930 square feet, Coway's HyperCaptive™ filtration system (with Green True HEPA™ filter) wraps any space in clean air, 24 hours a day.
Learn more about Airmega.

*Coway air purifiers have been proven to trap dust, pollen, dander, viruses and bacteria in the air based on KCL(Korea Conformity Laboratories) testing. They have been tested in a 30㎥ size chamber according to the Korea Air Cleaning Association standard (SPS-KACA 002-132:2018 Modified) to measure the 0.01㎛ size of particle removal rate. It was tested on maximum fan speed in normal room temperature and humidity conditions. The performance may vary in the actual living environment of customers. Tested with Coway Airmega 150, AP-1216L, AP-1512HH, AP-1512HHS, 200M, 250, 250S, 300, 300S, 400, 400S.
**Aerosol test conducted in a Biosafety level 3 laboratory with two Coway air purifier models, Airmega 400 and Airmega 250 for removal of SARS-CoV-2 Aerosol by US based MRI Global, a not-for-profit laboratory and partner of US Department of Defence. The test was conducted in a 13.1ft3 chamber. Virus was aerosolized for 15 minutes and the product was turned on high for 2 minutes. Result showed each product effectively removed over 99.98% of the SARS-CoV-2 in 2 minutes. This is a result from a laboratory experiment condition and result may vary in different conditions. This result does not imply it kills SARS-CoV-2 or prevents the transmission of Covid-19.