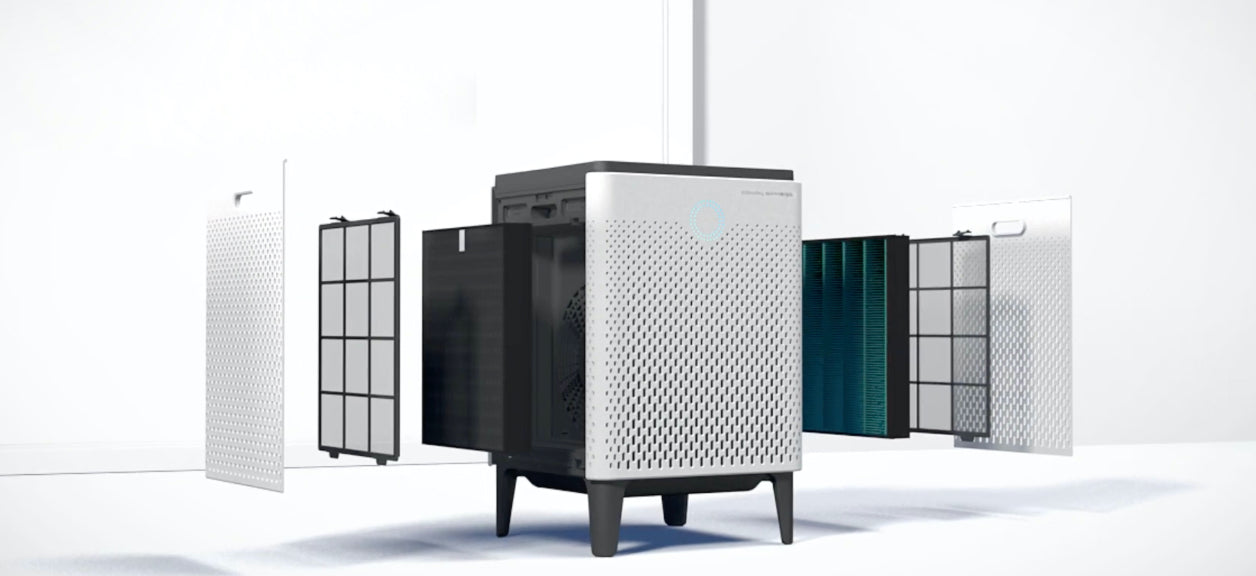 BLOG ARTICLES
Published: Feb 19, 2021
Top Tips for Maintaining Your Airmega Air Filter
Minimal maintenance required
It's true, your Airmega on auto mode will take care of your air without you having to press a button. But, there are a few things you will have to do in order to ensure proper purification. Following this guide will help you enjoy all the clean air that comes with your Airmega, fuss-free.
Definitely do this before turning your Airmega on.
When your Airmega arrives fresh out of the box, there's one crucial step that will ensure proper function. If you notice that your Airmega is making a loud noise, you may have skipped this step: Remove the plastic packaging from the brand-new filters inside your purifier, then install them properly. One user had their plastic packaging on for a whole year... Oops!
Where can I put my purifier?
Finding the perfect place for your Airmega is the first step in getting clean, fresh indoor air. Generally, we recommend placing near the middle of the spaces where you want clean air, like between a living room and a kitchen. Most purifiers are placed in a living space or bedroom (breathing fresh air while you sleep can be a life-changer!). Find out how the air flows in your Airmega. For larger units like the Airmega 300 and 400, the air flows in from both sides and out the top. For smaller Airmega models like the 150, air flows in from the front and out the top. Keep about six to twelve inches of space for wherever air flows in or out of your purifier. Also, don't stack anything on top.
Managing the filters
No matter how efficient your air purifier was designed, it won't filter well without a few basic filter maintenance steps.
The first filter on your Airmega is the washable pre-filter, which keeps out large particles like dust and hair. Vacuum or rinse this filter every 2 weeks or so, allowing it to dry completely before reinstalling.

Your deodorization and HEPA filters cannot be washed or re-used. Replace these filters when the time is right. If your Airmega has a filter indicator light, you'll be notified when it's time to reorder.

For Wifi-enabled devices, you can use Coway Smart Home skill to ask Alexa about the indoor air quality, or to change the fan speed. You can also set up smart reorders for filters without having to press a button. Once replaced, remember to press the reset button.

Read more about pairing Alexa and Airmega

If no filter indicator light is present, check your manual and pre-order your replacements for the recommended time. Replacement time will be about 6 months for the deodorization filter and twelve months for the HEPA filter.
Cleaning the Air Quality Monitor
For the most accurate reading possible, you can wipe the air quality monitor on the side of your Airmega with a cotton swab. Doing this every two months or so will keep it clear of dust.
Replacement filters
Find the right filter replacement set for your Airmega here:
Keep your manual handy.
Of course, every Airmega has its own best practices, so reference the manual provided if you have any specific maintenance questions. And be sure to check out the videos below for more Airmega advice.
Where should I place my Airmega?
Against a wall? In a corner? Find out the best strategy for placing your Airmega...
Why is my Airmega making a loud noise?
You'd be surprised how easy it is to miss this one crucial first step…
How do I manage the filters in my Airmega?
With filter indicator lights, Coway makes it easy…
 Visit Cowaymega today to check out our full line of air purifiers.