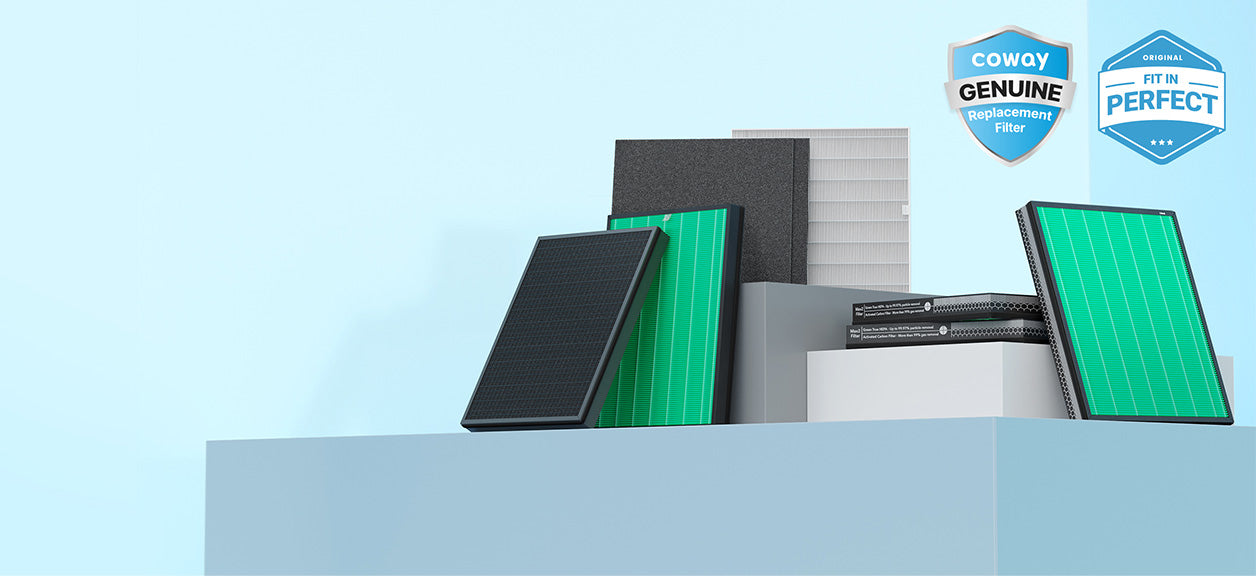 BLOG ARTICLES
Published: Mar 01, 2023
Airmega: Everything You Need to Know About Air Filter Maintenance
Right now is the perfect time of year to ensure you're doing all you can to stay healthy. An air purifier is especially helpful at creating better indoor air quality. However, air purifiers can't perform properly without some routine maintenance. Completing simple tasks like routinely cleaning pre-filters and replacing True HEPA filters when needed helps keep your unit efficient and effective. Coway's line of Airmega purifiers are top of the line, and with some simple air filter maintenance they will keep your indoor air healthy for a long time to come. 
Coway Makes it Easy to Maintain Your Airmega
It's true, switch your Airmega on auto mode and it will take care of your air without you having to press another button. But, there are a few things you will have to do in order to ensure proper purification. If it sounds burdensome to buy a new product and already be thinking about maintenance, don't worry! Coway makes it incredibly easy to perform air purifier maintenance. Between infrequent and minimal maintenance required and built-in features to indicate when it is time to change a filter, Airmegas could not be easier to maintain. Following this guide will help you enjoy all the clean air that comes with your Airmega, fuss-free.
Why Maintenance?
Before we get to far, it is important to define why air filter maintenance is important. If you have a Coway Airmega purifier that is no longer performing how it did when it was brand new, you may be tempted to purchase a new unit. But as much as Coway is dedicated to helping you live a better, healthier life, we also want a better, healthier world to live in. We recommend regular product maintenance such as replacing filters because this will help your Airmega purify your air for years to come, thus avoiding unnecessary waste. Here are a few reasons you should prioritize air filter maintnance:
It saves you money: avoid damaging or replacing your product by keeping it running like new. This is especially helpful if you own multiple Airmegas or are purifying in your place of business.

It helps you stay healthier: old or dirty filters will be less effective in removing harmful airborne particles. Coway Genuine Filters keep your air clean and healthy.

It is more sustainable: by keeping your Airmega running for a long time, you can feel good about extending the life of your product and creating less waste.
Airmega Air Purifier Maintenance
Okay, now that we have covered the basics, let's take a look at how to properly care for your Airmega. We will walk you through general air purifier maintenance tips as well as show you how to care for individual Airmegas. Be mindful that some units have slightly different steps for maintenance; however, one thing that all Coway products have in common is that they are very simple to maintain! And don't worry: if you have any questions, refer to our FAQ video which helps walk you through common maintenance questions. 
1. Do this first!
When your Airmega arrives fresh out of the box, there's one crucial step that will ensure proper function. If you notice that your Airmega is making a loud noise, you may have skipped this step: Remove the plastic packaging from the brand-new filters inside your purifier, then install them properly. One user had their plastic packaging on for a whole year... Oops!
Another important step for clean, fresh indoor air: Finding the perfect place for your Airmega. Generally, we recommend placing near the middle of the spaces where you want clean air, like between a living room and a kitchen. Additionally, it is best to maintain about six to twelve inches of free space for wherever air flows in or out of your purifier. 
2. Use Coway Genuine Filters
Before we dive into the particular steps for your Airmega maintenance, let's talk a little bit about the difference between Coway Genuine Filters and other 3rd party filters. While it may be tempting to save a few bucks and buy a 3rd party filter for your Airmega, there are a few reasons that these lower quality filters are not a great choice, and may even end up costing you more money in the long run. Here are some reasons we highly recommend selecting the appropriate Genuine Coway Filter:
Perfect Fit and Seal: 3rd party filters will have a poorer fit and therefore not seal properly in your Airmega. This means more fuss when swapping filters, and less effective purification.

Higher Performance: Coway Genuine Filters are tested and re-tested to ensure the highest quality purification. We cannot guarantee the effectiveness of other filters, but we know our genuine filters perform excellent every time you switch on your Airmega.

Longer Lifespan: Our filters are made front he best materials ensuring that they last you a long time. Even if you find a cheaper 3rd party filter, they often have a much shorter lifespan than Coway Genuine Filters, meaning you may end up spending more money because you have to replace them more often. 

Energy Efficient: Because Coway Genuine Filters are crafted to work perfectly with Airmega products, we can ensure the energy efficiency of your air purifier. Other filters may increase the energy consumption of your Airmega due to poor fit and seal or lower quality filtration.
3. Air Filter Maintenance
No matter how efficient your air purifier was designed, it won't filter well without a few basic filter maintenance steps. Let's take a look at the general parts of your Airmega.
The first filter on your Airmega is the washable pre-filter, which keeps out large particles like dust and hair. Vacuum or rinse this filter every 2-4 weeks, allowing it to dry completely before reinstalling. Check out

this video

explaining how important a clean pre-filter is!

Your deodorization and True HEPA filters cannot be washed or re-used. Replace these filters when the time is right. If your Airmega has a filter indicator light, you'll be notified when it's time to reorder. A general rule of thumb is 6 months for the deodorization filter and one year for the True HEPA filter.

Even better: on newer Airmegas with Max2 air filter cartridges that combine the power of deodorization and True HEPA filters, expect a one year lifetime for filters.

For Wifi-enabled devices, you can use Coway Smart Home skill to ask Alexa about the indoor air quality, or to change the fan speed. You can also set up smart reorders for filters without having to press a button. Once replaced, remember to press the reset button. Read more about pairing Alexa and Airmega

If no filter indicator light is present, check your manual and pre-order your replacements for the recommended time. Again, replacement time will be about 6 months for the deodorization filter and twelve months for the HEPA filter. 
4. Cleaning the Air Quality Monitor
For the most accurate reading possible, you should wipe the air quality monitor on the side of your Airmega with a cotton swab. Doing this every two months or so will keep it clear of dust and ensure that it is giving you the most informative air quality reading. This is an important step to providing clean interior air. For more information, reference this video!
5. Maintaining Other Components
Setting up your Airmega and maintaining/replacing the filters when needed is important, but it is also useful to clean and maintain other components on your air purifier. It is recommended that you wipe the exterior covers and air outlets with a dry, soft cloth at least every two months to ensure that air is flowing freely. Keeping these parts clean and free of built up particles helps keep the filters performing well and your Airmega cleaning the air as efficiently as possible. Of course, every Airmega has its own best practices, so reference the manual provided if you have any specific maintenance questions. And don't worry if you misplace it: your user manual is always available online on your respective Airmega product page!
Find Your Filter Replacements
Now that we've learned how to properly clean and care for our Airmega products, let's take a look at the correct filters. Many of Coway's newest Airmegas have even more convenient filter maintenance, as the Max2 cartridge design allows you to replace the filter set as a whole without spreading dust or other particles around. Check out the genuine replacement filters to find the correct filters for your unit. And if you ever have questions about product care and maintenance, contact us for help!