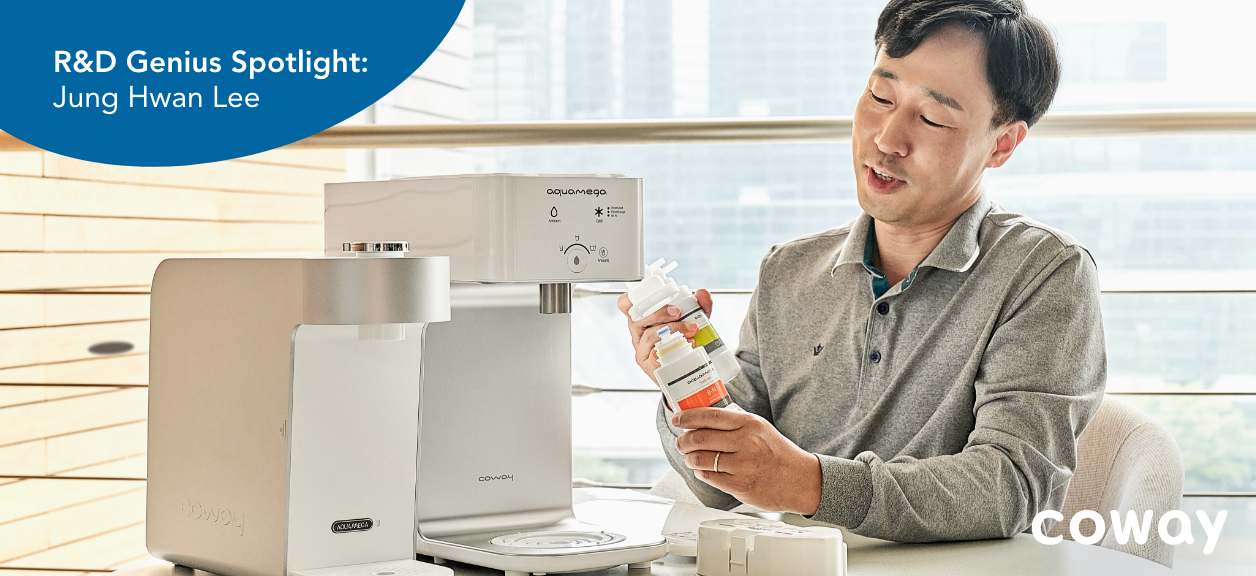 BLOG ARTICLES
Published: Jan 18, 2022
R&D genius spotlight: Jung Hwan Lee
Coway's Research and Development Team is on the cutting edge of major health technologies, constantly researching to bring happier, healthier lives to millions around the world. With over 366 researchers, developing technologies around all aspects of life, it is one of the most robust teams of experts in development of clean air and water—and much more. Whether it's billions of data points to document air quality or 23 certified water sommeliers—when we say we're obsessed with health, we mean it.
One of our leaders with a #HealthyObsession is Principal Research Engineer Jung Hwan Lee. Working with the WaterCare Development team, Lee helped perfect the design of Aquamega, with the help of some inspiration from his kids.
"I was contemplating how to make a good habit of drinking water for children, and I developed a smartphone application to link with a water purifier. I'm a father who loves the company for providing excellent products."
–Jung Hwan Lee, Principal Research Engineer
One of the main focuses of the Development Team is to bring efficiencies to every system within a Coway product. Lee was looking for ways to maintain the cooling functions inside Aquamega. There were some difficulties at first, finding a solution to minimize energy consumption.  One day, Lee was running errands, and the goods at a local store inspired him.
"I randomly went into a store and got an idea—I realized that creating insulation around the parts can help with energy. I learned a valuable lesson that anything can be done if you have a goal, and the passion to complete it."
One additional challenge faced by Lee was the vastly different contaminants found in each region of the world. #Aquamega had to be versatile enough to capture all sizes and shapes of harmful contaminants in order to be effective around the world. That's why Lee and his team regularly visit a variety of foreign places, testing and researching the best capture techniques.
"To ensure we have products that will be loved by customers, we prioritize quality and innovation. We also create products for which the customer can easily install, maintain, and manage the product."
Usability is a huge factor to the innovation and success of Coway. They are products that work well for each user and fit beautifully into their home. In large part, it's thanks to engineers like Lee and his team of researchers. Staying on the cutting edge means thinking on the cutting edge.