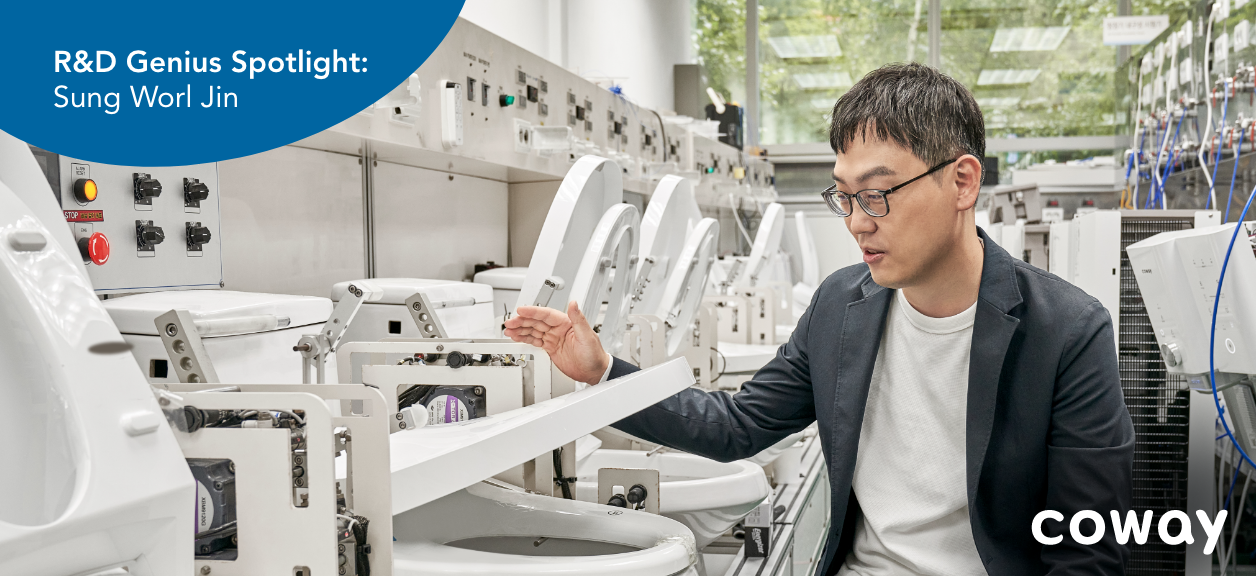 BLOG ARTICLES
Published: Mar 14, 2022
Coway R&D Genius Spotlight #2: Bidetmega
Meet genius engineer Sung Worl Jin. Jin has worked in the bath products industry since 2001, and is now the Team Leader for the LivingCare Development Team at Coway. Together with his team, Jin leads the development of new bath and kitchen technologies.
Technology inspired by life experience
A wide variety of experiences inspires the products the team engineers. "Even when traveling, I investigate the types of bidets and home appliances and carefully examine how Coway products are different," Jin says. "At the mall, I often stop by the toy store. I gain inspiration from the toys. If you look closely at these structures, sometimes those ideas are good hints to make Coway products better."
When work first began on Bidetmega, they were researching which current of water pressure gave the right balance for cleanliness and comfort. "Water pressure is key to the use of the bidet. If the water pressure is too strong, it may affect overall anal health," says Jin.
Then one day, Jin saw their daughter playing with a rubber hose, and realized the flexibility of the hose could help with the bidet's water path. Coway's now-patented iWave technology gives a multiple-stage wash with different pressures, allowing for maximum cleanliness, and a more gentle experience.
Personalized personal care
"A manual bidet has no electrical functions. And it can be an inconvenience. Especially during winter when the toilet seats will be cold and cold water will be present. But a smart bidet provides convenient functions. It can heat the toilet seat during winter, provide warm water, and adjust water pressure that is suitable for the user. Depending on the product, Coway's i-wave function automatically adjusts the flow of water and will enhance the user's convenience. By applying 'Child Mode' to the Coway bidet, we develop it so that even children can use it safely by lowering the pressure and adjusting the water temperature appropriately," says Jin.
"The i-wave technology provides customized water flow depending on the user, age and other conditions. On certain days, a user would like a strong water stream to help with bowel movements, and on days when the user's condition isn't great, a gentle stream would be the best option. Research also showed that men and women have different needs when it comes to water streams. All this collective data has helped develop our i-wave technology. Depending on the user and their needs, the technology will help with the range and time of cleaning. From a soft start to a rinse wash finish, this is an experience you can customize to yourself."
Standing out from the competition
Jin's work drives the development of innovative technologies and helps Coway stand out as a world leader in its industry.
"Coway is a leading company in sanitation technology," Jin says proudly. "It was the first to sterilize water in the bidet for commercial use. It generates sterilized water by activating chlorine ions in tap water without additional additives. This water is harmless to the body but also cleans the bidet hygienically."
Part of Bidetmega's huge success is the fact that the nozzle tip sterilization before and after use prevents any bacterial growth, ensuring safe, clean personal hygiene for users.
"Every time I help develop a product, I feel a sense of accomplishment for anything big or small," says Jin. "Each product is like a child, so it is rewarding to see the product grow into something big where customers will be satisfied with the use. In an age where information is quickly accessible and the introduction of online smart shopping, the fact that our products sell well means Coway is being recognized for quality and performance. And when a new technology receives national certification, we feel proud."
Learn more about Bidetmega.