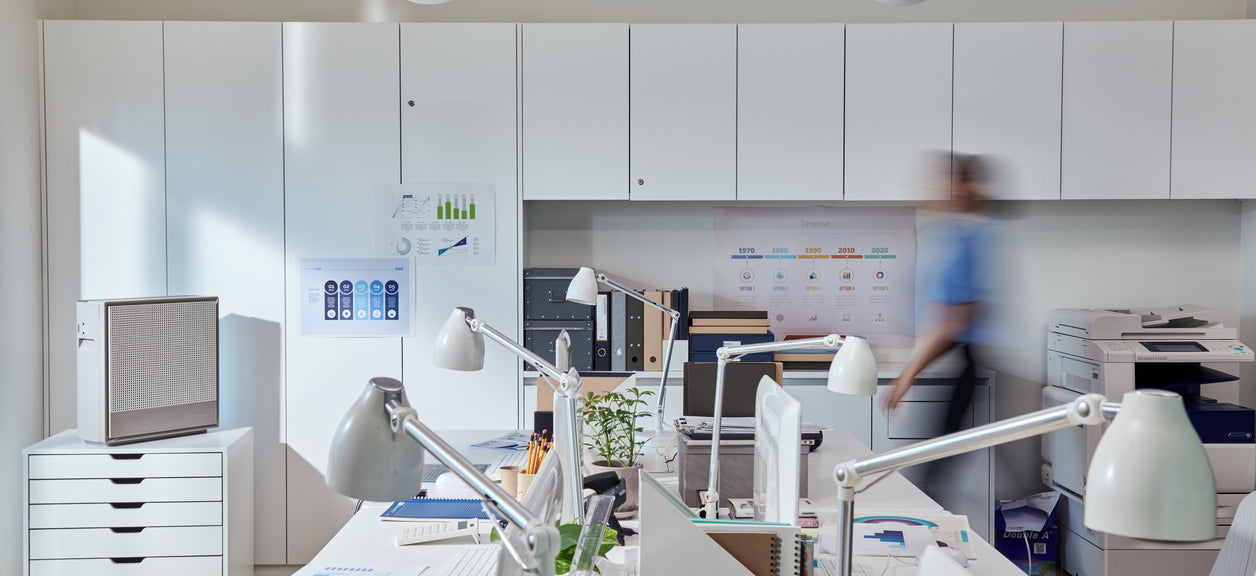 BLOG ARTICLES
Published: Feb 22, 2023
Time to Breathe Easy: Air Purification for Your Business
By Justin J. Murphy
Here's an extremely important insight that everyone needs to know: air purifiers aren't just for your home—they're for everywhere. Office, warehouse, hotel, restaurant, classroom—the list goes on and on.
Clean air is a major factor in creating a healthful indoor environment. But it's not just about the health benefits—it's also about showcasing your commitment to the health of your employees, coworkers, students, guests, and patrons. Small acts of health-forward kindness do not go unnoticed. 
Let's take a look at some facts about healthful indoor environments:
They create a healthier mental outlook

They promote better health

They reduce the risk of respiratory complications
Create a healthful environment and you generate positive results all around. A business committed to the wellbeing of their employees and customers is a business bound to excel. 
Why an Air Purifier Is Important
Over the past two centuries, humans have done an excellent job of introducing a bevy of harmful pollutants into our air—and the result has been respiratory problems, allergies, and health complications. Breathing clean air shouldn't stop when you leave your home. It should follow you throughout the day no matter where you go.
Here's a fact: We spend 90% of our lives indoors. And we inhale over 2,000 gallons of air a day. Better quality indoor air reduces the risk of transmission of pathogens, improves allergies, and enhances breathing—and when you're breathing that much air indoors everyday, it's vital to overall health to be breathing clean air.
In fact, a recent controlled study in the Yonsei Medical Journal "found that air purifiers significantly reduced medication use in those who struggled with respiratory symptoms caused by their allergies." 
Just think—if we all do our part, we can significantly contribute to a healthier lifestyle not only for ourselves, but also for everyone around us.   
Industries Best Served by an Air Purifier
As we mentioned before, creating a healthful environment for employees, guests, students, and patients is vital in reducing health complications. Here's a few ways Coway air purifiers can help various industries.
1. 

Dining

Coway air purifiers can reduce airborne viruses and bacteria, as well as reduce the effects of smoke as well as foul odors that could be emanating from the latrine. Open kitchen? Bathroom close to diners? Grab yourself an air purifier today!
2. 

Hospitality

With thousands of guests checking-in and out of hotels each day, it's nearly impossible to ensure everyone stays out of harms way when it comes to viruses and bacteria. Air purifiers can help optimize air in common spaces as well as guest rooms and dining facilities.
3. 

Medical

Obviously keeping patients healthy is a top priority at clinics and hospitals—but keeping staff healthy is also vital to addressing and solving medical issues. We saw what Covid did to many hospital staff and the catastrophic effects it had on the healthcare system. Now is the time to invest in a cleaner environment for nurses, doctors, maintenance crews, and cleaning crews.
4. 

Schools

One too many sick days and your kid gets behind. Not to mention the fact that viruses picked up at school spread to family and siblings, increasing sick days across the board and contributing to higher stress levels at home and at work. Clean air = better learning environments.
5. Travel/Transportation
With millions of travelers from all over the world convening on airports, bus stations, train stations, and metro stations each and every day, there's bound to be nasty viruses floating in the air. Keep travelers safe and you contribute to a massive enhancement of global health.
Partner
with Coway to Create a Clean and Healthful Environment
Whether you're an ice cream shop, a hotel, a clinic, or a school, utilizing Coway air purifiers is an essential tool to maintaining a healthy environment. Coway air purifiers like the Airmega 250 and Airmega 400 can remove 99.999%* of VOC's in the air, as well as reduce the aerosol virus SARS-Co-V-2 up to 99.98%³ in under two minutes (more information below). This enables your business to maintain a near perfect breathing environment that not only keeps coworkers, patients, clinicians, and guests safe, but also provides an optimal environment for those affected by severe respiratory illness, allergies, and asthma.
And…added bonus. Clean air leads to less sick days, which means more productivity, more learning and a happier indoor environment all around.
Up to 99.98% removal rate of aerosol SARS-CoV-2 virus under 2 minutes
To test against the latest global crisis, Coway tested its filtration performance against the actual SARS-CoV-2 virus that causes Corona virus in a Bio Safety Level 3 13.1 ft3 Chamber Test environment resulting up to 99.98%³ of removal of aerosol virus under 2 minutes.
*More information about Coway Airmega air purifiers
Unfiltered air is more prone to carrying dangerous contaminants. Coway Airmega HEPA air purifiers are designed to ensure your indoor air is cleaner, with fewer harmful particulates and unpleasant odors. With multi-stage filtration and a patented network of capture technologies, Airmega is able to filter out and remove up to 99.999%¹ of nano-sized particles down to 0.01 micrometers in size – that's smaller than most allergens, bacteria, mold and viruses! For comparison, an average grain of pollen is 10–70 microns in diameter. 
Airmega is perfect for improving air quality in living rooms, bedrooms, classrooms, studios and small offices. Coway's HyperCaptive™ filtration system with Green True HEPA™ filter wraps any space in clean air, 24 hours a day. Learn more about Airmega at cowaymega.com. 
¹Coway air purifiers have been proven to trap dust, pollen, dander, viruses and bacteria in the air based on KCL(Korea Conformity Laboratories) testing. They have been tested in a 30㎥ size chamber according to the Korea Air Cleaning Association standard (SPS-KACA 002-132:2018 Modified) to measure the 0.01㎛ size of particle removal rate. It was tested on maximum fan speed in normal room temperature and humidity conditions. The performance may vary in the actual living environment of customers. → Tested with 150, 160, AP-1216L, AP-1512HH, AP-1512HHS, 200M, Icon, IconS, 230, 240, 250, 250S, 300, 300S, 400, 400S