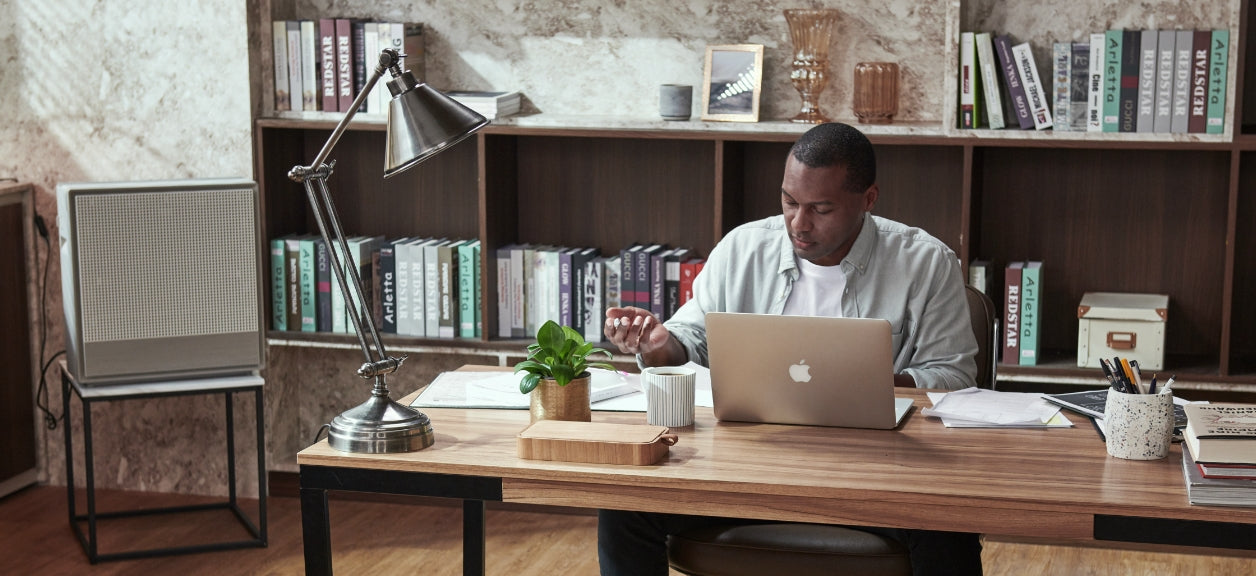 BLOG ARTICLES
Published: Nov 15, 2021
Is the air in your office damaging your brain?
People who live in cities know that it's not healthy to spend too much time breathing in polluted air near major roads, intersections, and industrial centers. What you may not realize is that the air indoors can be even worse. 
The stagnant air inside enclosed buildings contains the same pollutants as the air outside, but it also traps in all the carbon dioxide people exhale. This is a problem especially in crowded places where people spend extended periods of time, like classrooms and offices. Not only is this air unhealthier than the air outside, but poor air quality at work has also been shown to decrease cognitive function — an office air purifier can help.
The air in your office is making people stupider
A new study from Harvard found that chronic exposure to fine particulate matter such as carbon dioxide caused slower response times and reduced accuracy on cognitive function tests. The study also mentioned that "the extent to which ambient pollution penetrates and accumulates indoors is influenced by ventilation, infiltration, and filtration."
People who work in offices often find themselves counting down the hours to their lunch break, sometimes stepping out sooner for a cup of coffee as an excuse to get some fresh air to reenergize themselves for a few hours. Improve the health, cognitive function, and efficiency of your employees by installing an air filtration system in your office and elevating workplace air quality. 
The Airmega air purifier for offices
The team at Coway combined leading technology, inspired design, imagination, and an obsession with detail to create an air purifier that is as powerful as it is beautiful. The Airmega is perfect for improving office air quality, designed with a network of capture technologies that circulate air more quickly through them to help you breathe the best air more easily. 
The sleek, advanced Coway Airmega air purifiers efficiently filter harmful sources in your space and capture 99.999%* of nano-sized particles down to 0.01 microns, which is smaller than most allergens, bacteria, mold, and viruses. With coverage of up to 930 square feet, Coway's HyperCaptive™ filtration system (with Green True HEPA™ filter) wraps any space in clean air, 24 hours a day.
With Auto mode that continuously tests air quality in the office, detects and eliminates pollutants, you can rest assured that the air flowing through your office is clean and your employees' minds are healthy and sharp. 
Learn more and get a custom quote for an Airmega for your business here.
*Coway air purifiers have been proven to trap dust, pollen, dander, viruses and bacteria in the air based on KCL(Korea Conformity Laboratories) testing. They have been tested in a 30㎥ size chamber according to the Korea Air Cleaning Association standard (SPS-KACA 002-132:2018 Modified) to measure the 0.01㎛ size of particle removal rate. It was tested on maximum fan speed in normal room temperature and humidity conditions. The performance may vary in the actual living environment of customers. Tested with Coway Airmega 150, AP-1216L, AP-1512HH, AP-1512HHS, 200M, 250, 250S, 300, 300S, 400, 400S.