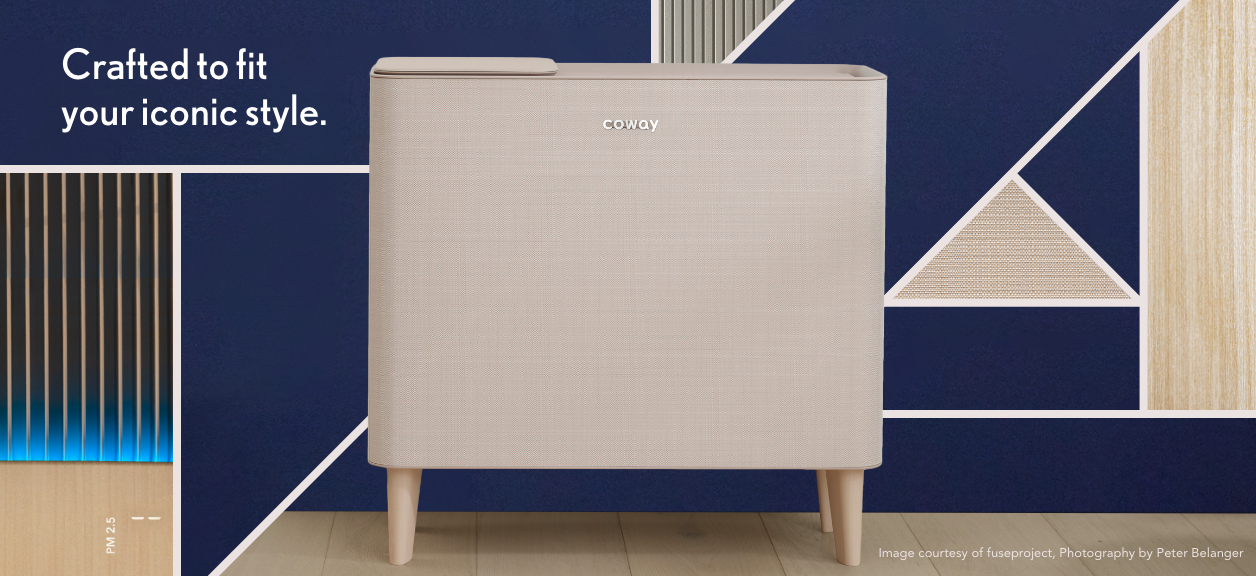 BLOG ARTICLES
Published: May 18, 2022
Introducing Airmega Icon & IconS
Designing Airmega Icon
Crafted by our world-class engineers in collaboration with award-winning designer Yves Behar and fuseproject, the Icon's beauty lies in its details. Airmega Icon was designed to deliver wellness while also contributing as a beautiful and practical object in the home. The Icon presents itself discreetly and subtly, but with powerful efficacy.
"We were inspired by design ethos commonly applied to furniture and set out to create a model that improves health, but also serves as a beautiful and practical showpiece," explained fuseproject CEO and Founder Yves Béhar. "Rather than imposing a boxy or round plastic object that stands out as utilitarian technology, the Airmega Icon's design uses new geometry to fit into spaces discreetly and elegantly. The refined materials, textile and wood finish, neutral color palette of gray and pink tones, and furniture feet add beauty to any environment."
Hyun Joo Song, head of Coway's design center, added "Even though air purifiers are more essential than ever, they're often hidden away in a corner because they don't mesh with interior decor. The Airmega Icon is not an eyesore – it's eye candy. As the market matures and consumers place greater emphasis on aesthetics, we're motivated by the challenge to innovate products that improve health and appeal to the senses, without sacrificing performance."

Elegant, Functional Design
Outfitted with intuitive design features and human touches, the Airmega Icon is composed of carefully selected materials that enhance both its beauty and its performance. At 21.4'' tall, the newest addition to the Airmega line tucks easily into any space and fits into any room's aesthetic while delivering quiet yet powerful purification. The Icon's water and stain repellent fabric cover increases both its aesthetic beauty and functionality as an air purifier. It also features subtle buttons that light up to the touch and allow you to intuitively operate your Airmega while seamlessly blending into the design.
Similar to other Airmegas, the Icon is equipped with a 24/7 pollution monitor that senses air quality throughout the day, adjusting purification to the necessary level and saving energy when it's not needed. Icon's PM 2.5 indicator allows you to check the indoor air quality at a glance, and a separate set of lights indicates when the filter needs cleaning or replacement. In addition to all these features, Airmega Icon is also the first smart air purifier to feature a wireless charging station, making it an excellent option for households and businesses alike.

Intuitive User Experience
The air purifier's UX was designed by fuseproject with straightforward messaging that lights up to the touch on the top surface and disappears shortly after. The subtle touch surface displays a lightweight font and data as a magical way to understand the air purifier's benefits and efficacy. Additionally, night lighting can be set with different mood colors.
The Airmega IconS also comes with wifi capabilities, joining a line of other wifi-enabled air purifiers including the AP-1512HHS, 250S, 300S and 400S. In addition to improved Bluetooth pairing, the IconS offers IoCare App integration and voice control! With the IoCare App, users are able to toggle settings, monitor the real-time quality of their air and take control of how they breathe, all fully remotely. With Amazon Alexa and Google Home, Airmega IconS can also be activated and controlled with just the sound of your voice. These wifi enabled features, in addition to HyperCaptive™ Air Filtration using Coway Green True HEPA™ technology, make the IconS our greatest purifier yet.
Elite Air Filtration
With the capacity to cover up to 649 square feet, this multifunctional, modern air purifier is the perfect space-saving side table alternative to improve the indoor air quality of any bedroom, living room or office.
Coway Green True HEPA™ technology helps you breathe cleaner, safer air by clearing away unwanted contaminants. Certified in the world of air purification, Green True HEPA™ filters work around the clock to remove particles from the air.
The Icon uses our patented Max2 filters as well as an odor-neutralizing activated carbon filter. This powerful 3-stage filtration process efficiently filters harmful pollutants in the air, capturing 99.999%* of nano-sized particles down to 0.01 microns–smaller than most allergens, bacteria, mold and viruses.

Celebrated for Excellence
Airmega Icon has been recognized with numerous awards such as the International Design Awards, Core 77 Awards, Fast Company Innovation by Design, Good Design Award, IDEA, and Spark Awards. Coway's newest air purifier is now available for purchase on cowaymega.com.
¹Coway air purifiers has been proven to trap dust, pollen, dander, viruses and bacteria in the air based on KCL(Korea Conformity Laboratories) testing. They have been tested in a 30㎥ size chamber according to the Korea Air Cleaning Association standard (SPS-KACA 002-132:2018 Modified) to measure the 0.01㎛ size of particle removal rate. It was tested on maximum fan speed in normal room temperature and humidity conditions. The performance may vary in the actual living environment of customers. 

Tested with 150, 160, AP-1216L, AP-1512HH, AP-1512HHS, 200M, Icon, IconS, 230, 240, 250, 250S, 300, 300S, 400, 400S