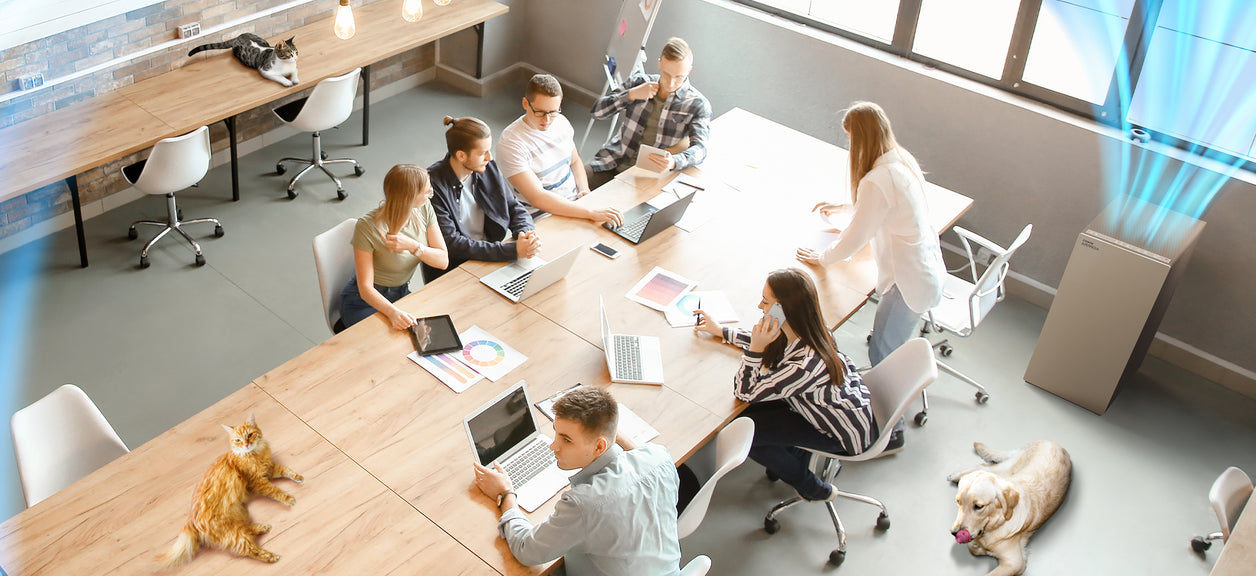 BLOG ARTICLES
Published: Mar 31, 2023
Airmega ProX: Your Business Air Purification Solution
In business, bigger is not always better. Scaling appropriately is crucial to achieving success. But when it comes to air purification, businesses shouldn't leave anything to chance. That's why Coway is excited to announce the brand new Airmega ProX. 
Coway's newest air purifier is our largest and most powerful ever, as well as the first designed specifically for businesses. With the Airmega ProX, all varieties of businesses can rely on cleaner, healthier air for their employees and customers. Read on to find out what makes the ProX a game-changer in commercial air purification. 
Size Matters
One major obstacle many businesses face when trying to promote a cleaner, healthier workplace is how to navigate the increased size of interior spaces. Air purification is an important step to creating a more healthful workplace, but trying to purify large rooms was difficult in the past without massive overhauls to the HVAC system. 
Where the individual rooms in homes or small buildings can be serviced with smaller units, it can be expensive and cumbersome to implement changes when your business has a large interior. With the Airmega ProX, purifying large rooms and interior spaces is no longer and issue; in fact, it is almost as simple as plugging it into the wall! Let's take a look at some incredible features of the new ProX:
1. All-Encompassing Coverage
The Airmega ProX exceeds prior Coway air purifiers by almost three times! Just one ProX can purify the air in a 4,253 ft2 room up to once per hour. This makes it perfect for large open office spaces, sales floors with open concepts and other large interiors. For reference, the average individual needs roughly 125 ft2 of working space, meaning that one ProX could help purify the air for about 34 employees in a coworking space! That is roughly the size of an NBA basketball court!
2. Efficient Design
To maximixe efficiency and better turn over the air in a room, the Airmega ProX utilizes binary motors and dual purification design to suck in unfiltered air from both sides. This speeds up the air purification process and allows for the massive air capacity that this unit can purify. 
3. Bigger, Better Max2 Filters = Cleaner Air
To maximize the new size and efficiency of the ProX, it is necessary for the unit to have more internal filtration to process all that increased air intake. That's why this Airmega has the biggest, most advanced Max2 Filters yet. These industry leading cartridge style filters feature a 2-in-1 design. The ProX Max2 filters have an Activated Carbon Filter that captures odors and harmful VOCs that providing powerful deodorization as well as certified Coway Green True HEPA™ filter, which helps remove the small unwanted particles and contaminants. Not to mention, the advanced micro seal makes for easy installation and maintenance.
Simplifying Your Business Air Purification
The last thing you want as a business owner or the manager of a large interior space is added work. Not only does Coway's new Airmega ProX have your air quality covered, it also makes it easier than ever to maintain a healthier work environment. The beauty of the ProX is that you can set it up in your business and let it do all the work. With some very simple (and infrequent) maintenance, your customers and employees will be breathing easy from Q1 to Q4! Check out how Coway makes it easy to purify your air:
1. Cutting-edge Functionality
While Coway has a reputation for leading air purifier technology, the Airmega ProX is in a class of its own. Airmega is intelligent and can adapt to its surroundings, changing modes and fan speed as needed. It features Auto, Eco, Silent and Turbo Mode. When air quality is in need of a boost, set the Turbo mode to circulate at maximum power until your air is clean. And when you need even more adaptability, set your ProX to Auto Mode, and the fan and purification level will adjust to the space as needed.
All of this is enabled by the Airmega ProX real-time AQI monitoring, which keeps you informed of the air quality status at any given moment. The ProX is the first purifier in the Airmega lineup with three particle sensors(PM 10/ PM 2.5/ 1), meaning that the precision and accuracy of this unit are unparalleled. 
2. Always Easy to Use 
We at Coway understand how busy you are, and we think it should be easy to keep your workplace clean and healthy. Beside the variety of user-friendly Modes, the Airmega ProX has an easy to clean pre-filter and a filter replacement indicator for the Max2 filters, so you don't have to worry about when to change them. Not to mention, the control panel lock means you won't accidentally change settings when you don't want to. The use and upkeep of the ProX is easy so you can maximize your business time.
3. Beauty in Simplicity
One thing you will notice about the Airmega ProX as soon as you see it: the air purifier is sleek, understated and elegant. It can be a challenge fitting a new piece of equipment in an already busy office or interior space. That's why Coway opted for wheels that are tucked away and invisible as well as a hidden handle. These features maintain both the good looks and functionality of the ProX. It is amazing how much power the Airmega ProX fits into its slim, refined design, and it can stand out in or blend in to any indoor area. 
Who is the Airmega ProX Right For?
Now that we know about the substantial features and power of the Airmega ProX, it is important to identify who would best be served by this air purifier. Even if you don't have a huge 4000+ ft2 space to cover, this can still be an excellent option for you and your business. Because it can circulate air in smaller spaces even more quickly, the Airmega ProX is an excellent choice for high-traffic interiors such as customer facing businesses. It can turn the air over in a 1063 ft2 space in just 15 minutes, making it perfect for industries that have a lot of people cycling through. Basically, the Airmega ProX is a perfect fit for businesses both big and small, as its power, simplicity and leading technology make it suitable for a variety of interior spaces. Learn more about the Airmega ProX.
*More information about Coway Airmega air purifiers
Unfiltered air is more prone to carrying dangerous contaminants. Coway Airmega HEPA air purifiers are designed to ensure your indoor air is cleaner, with fewer harmful particulates and unpleasant odors. With multi-stage filtration and a patented network of capture technologies, Airmega is able to filter out and remove up to 99.999%¹ of nano-sized particles down to 0.01 micrometers in size – that's smaller than most allergens, bacteria, mold and viruses! For comparison, an average grain of pollen is 10–70 microns in diameter. 
Airmega ProX model uses 30% PCR (Post-Consumer Recycled). Plastic is at 90% of the total plastic weight.New plastic reduction effect 1) Calculation method: Of the total plastic used in the product, 15.6kg used 30% PCR plastic, and this is the basis for calculation by reflecting the recycled resin ratio among them.
Airmega is perfect for improving air quality in living rooms, bedrooms, classrooms, studios and small offices. Coway's HyperCaptive™ filtration system with Green True HEPA™ filter wraps any space in clean air, 24 hours a day. Learn more about Airmega at cowaymega.com. 
¹Coway air purifiers have been proven to trap dust, pollen, dander, viruses and bacteria in the air based on KCL(Korea Conformity Laboratories) testing. They have been tested in a 30㎥ size chamber according to the Korea Air Cleaning Association standard (SPS-KACA 002-132:2018 Modified) to measure the 0.01㎛ size of particle removal rate. It was tested on maximum fan speed in normal room temperature and humidity conditions. The performance may vary in the actual living environment of customers. → Tested with 150, 160, AP-1216L, AP-1512HH, AP-1512HHS, 200M, Icon, IconS, 230, 240, 250, 250S, 300, 300S, 400, 400S