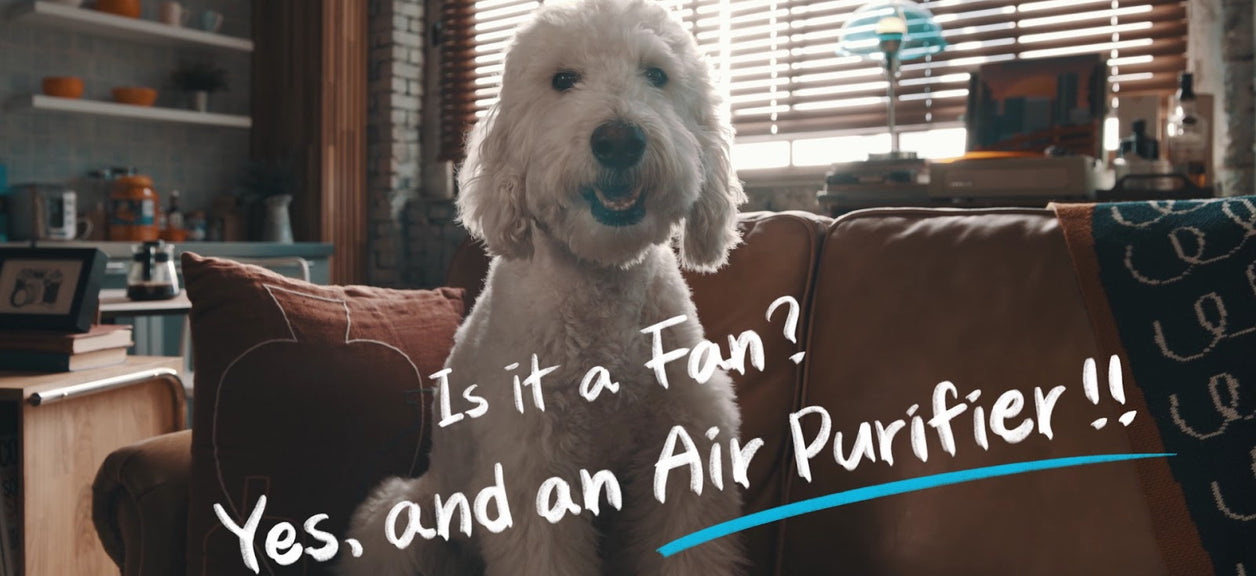 BLOG ARTICLES
Published: Jun 12, 2023
Airmega Aim: The Best Air Purifier For Small Spaces
In the pursuit of cleaner and healthier air, Coway has once again stepped up its game with the launch of the new Airmega Aim air purifier. This compact powerhouse is designed to cater specifically to living spaces in need of a refresh, providing exceptional air purification and delivering a breath of fresh air to your space. With its innovative features, including a built-in fan and multidirectional air circulation, the Airmega Aim offers a 2-in-1 solution that maximizes efficiency and effectiveness. Let's dive deeper into what makes the Airmega Aim the ideal air purifier for people branching out on their own and looking for the perfect compliment to their new space.
2-in-1 Functionality
In living quarters like dorm rooms, apartments, and casitas, space is a luxury. The Airmega Aim's built-in fan serves as a valuable space-saving feature. By combining the functions of an air purifier and a fan in a single unit, it eliminates the need for two separate devices, freeing up valuable space on your desk or floor. Unlike a normal fan, our Airmega Aim will circulate clean air that is filtered through our state of the art purification technology, including a 3-stage filter. That means this small unit can cleanse the air in a 492 square foot room in just one hour! For context, the average US studio apartment size is just around 500 square feet!
Compact Size, Powerful Performance
The Airmega Aim is perfectly suited for dorm rooms, small apartments, studios, and similar living spaces. Despite its smaller footprint, the Airmega Aim doesn't compromise on performance. It delivers powerful air purification, ensuring that the air you breathe is clean, fresh, and free from pollutants.
Efficiency and Convenience
Dorm rooms, apartments, and studios require appliances that are not only efficient but also convenient to use. The Airmega Aim excels in both these aspects. It operates at optimal levels while consuming minimal power, making it energy-efficient and cost-effective. Its compact size and lightweight design allow for easy portability, enabling you to move it around and place it in different areas as needed. Whether you're studying in your dorm room, working in your home office, or relaxing in your studio, the Airmega Aim ensures clean and fresh air wherever you go.
Multidirectional Air Circulation
Interiors with less space often lack adequate air circulation, leading to stagnant and stale air. The Airmega Aim addresses this issue with its multidirectional air circulation. Its 360-degree air intake draws in polluted air from all angles and thoroughly purifies it before releasing clean air back into the room. This ensures that even the farthest corners of your dorm room or small apartment receive the benefits of improved air quality. The Aim can auto-oscillate up to 80 degrees and can tilt vertically up to 90 degrees, which soft clicks at 5 different angles, from negative 15 degrees all the way up to 90. That means no portion of the interior air will go unfiltered or stale! 
Intuitive Controls and Smart Features
The Airmega Aim's user-friendly controls and smart features make it an excellent choice for people with busy schedules. With its easy-to-use interface, effortlessly adjust the airflow speed, or simply set the Auto Mode. This allows the Aim to automatically adjust the airflow speed (Levels 1, 2, and 3) for efficient
operation depending on the indoor air quality detected by the sensor. The real-time Air Quality Indicator lights keep you informed about the current air quality, allowing you to monitor and maintain a healthy environment. Also, you can lock the control panel, adjust settings with the convenient remote control, and preset the functionality up to 24 hours with the timer preset option. 
Airmega Aim: The Perfect Small Air Purifier
The Airmega Aim by Coway is the perfect air purifier for anyone looking to circulate clean, filtered air around their space. Its compact size, combined with powerful air purification capabilities and a built-in fan, makes it an ideal choice for those with limited space, individual rooms and anywhere you want to breathe clean, breezy air. The multidirectional air circulation ensures that every corner of your living space benefits from cleaner air. With intuitive controls and smart features, the Airmega Aim offers convenience and efficiency for busy individuals. The Airmega Aim is the ultimate air purification solution, and best of all it is offered at a great price. Breathe cleaner and fresher air with the Airmega Aim today! 
See the Airmega in action by clicking the video below.